Watch Over 4000 Free Video Art Lessons
Get Inspired! Over 12,000 hours of Art Instruction! All Media, All Skill Levels.. Let's Create More Art!
How To Use Colored Pencils to Color A Cartoon Santa At the Beach | Video Art Lessons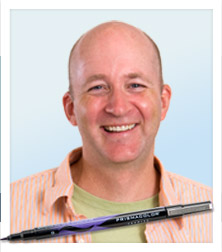 How To Use Colored Pencils to Color a Santa At the Beach Cartoon
with Bob Ostrom
Description
Join professional childrens book illustrator Bob Ostrom in this new free art lesson as he uses Prismacolor colored pencils to give life to Santas vacation at the beach! Kick back and follow along as Bob Ostrom explains how to blend colors to give Santa Claus a Hawaiian print shirt and a much-needed tan! Youll learn a lot from these fun drawing techniques for everyone from beginners to professionals!
Skill Level:
Beginner, Intermediate
About Bob Ostrom
My first semi-professional illustration job came in the third grade when I traded a really lame monster drawing for a peanut butter and jelly sandwich. When I got a little older I realized I was pretty good at drawing, so I went to art school in Boston. During my second year I entered a contest for Molson Golden. To my surprise, not only did I win, but I was handed a check for $500.00 and a contract to do more artwork for them. Suddenly I was a professional! After college I worked with sev...
More About Bob Ostrom