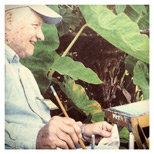 Harold K.
---
"I'm a retired Air Force Pilot..."
Theresa Z.
---
"As the director of a non-profit..."
Jason P.
---
"I'm an Artist with a disability..."
Elliot R.
---
"Proclaiming myself an artist..."
Jacqueline K.
---
"I became a serious painter in 2007..."
Janice S.
---
"Jerry's is my 'go-to' art supply store..."
"I am a teacher who helps my students learn and create art. With Jerry's I can buy the supplies for my classroom at great savings."
"Jerry's is the perfect place for me to buy art supplies for my organization. I save money, get great service and fast shipping."
"I noticed the exclusive brands Jerry's has to offer. I tried the Lukas oil paints and was immediatley impressed by their vibrant hues."
---
When will we pick the recipients?
Periodically winners will be chosen and they will be announced via email, and listed on the Read My Story page.
Advertising?
We may ask that your artwork and stories be featured in our catalogs. The recipients are added to the Read My Story Page online.
How many recipients are selected?
Once a month, we will choose at random up to 3 recipients. Chosen entrants will also be contacted via email.
More Stories?
You have so many exciting stories to tell and we want to share them with everyone. We receive so many amazing stories on how art has changed your life, and how having access to our supplies at the lowest prices has helped for over decades. Please enter and keep the amazing stories coming in!
---
"As an aspiring artist going to school, I am on a limited budget. Jerry's is great for me because of the large selection of art materials at low prices. I have shopped around comparing prices and found Jerry's to be the lowest. The shipping is fast and convenient and they have all the major brands I need."

Jeff ... Artist, College Student
"Painting has been my life long love and I will never stop. Having the opportunity to get the best selection of oil paints, brushes and my favorite brands is fantastic. Being on a fixed income, I choose to buy from Jerry's because they have everything I need at low prices. Thank you Jerry's for saving me money to do what I love...Paint!"

Shelly ... Artist, Life Long Painter
We are getting ready to print our next catalog and feature some of your great stories. Keep submitting them and thank you!
Disclaimer: All entries received will be reviewed at a chance to recieve a FREE $15 gift certificate to use only at jerrysartarama.com. If "Your Story" is randomly selected, you will be notified by email at the address provided. We reserve the right to review, edit and or publish your story, and your images to fit the contents of the site, use in our catalogs and any publication printed, used or branded by the Jerry's Artarama name.