Creative Mark Rhapsody Kolinsky Sable Artist Brushes
Save Instantly From
$22.04
From Price $11.01
To Price $661.49
The Absolute Best Value of any Brush in its Class! 100% Pure Kolinsky Sable Hair
Using the stringent English sizing developed by Winsor & Newton's in their Series 7, they use only winter coat, male tail Kolinsky hair (the bushiest and most responsive brush hair available). The fullest brush bellies possible, Rhapsody holds a flawless, split-proof point that holds large amounts of color!
Key Features:
100% Pure Kolinsky Sable Hair
Responsive, excellent spring
Full belly for large washes
Chrome-plated brass ferrules
Fine, Split-proof Points
Short handle brushes
Black lacquered handles, polished and well balanced wood with violet dipped ends
Perfect For:
Wanting the absolute best in class brushes
Professional Watercolorists
Watercolor, gouaches, inks, fluid medias
Fine, controlled detail
Holding large amounts of color
Kolinsky Watercolor brush enthusiasts
Can use with oil paints by mainly for watercolors
Email
Need Help ? Chat With An Expert
Creative Mark Rhapsody Kolinsky Sable Artist Brushes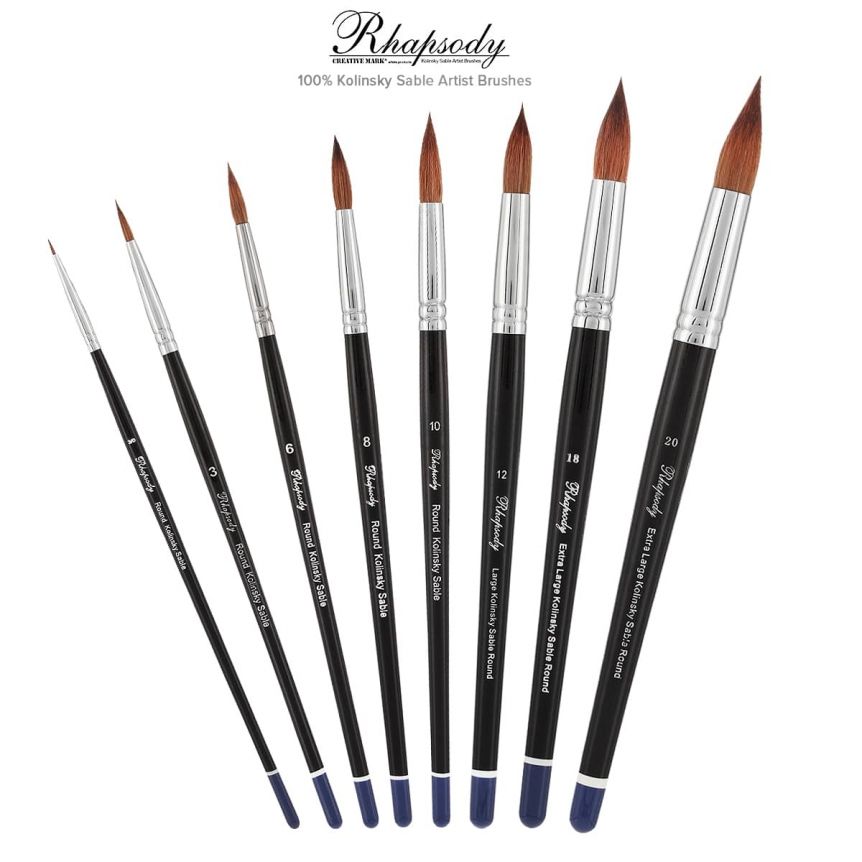 Click Tabs For More
Product Notes:
Is Proprietary

Exclusively At Jerry's! A Jerry's Artarama exclusive brand. The exclusive brands offer amazing quality, exceptional performance & great value. Comes with a 30 day money back guarantee!

LPP

Lowest Price - This item is already at the Best Lowest Price Possible and no further discounts or coupons can be applied.