New York Central® Oasis Synthetic Premium Brushes
Save Instantly From
$13.11
From Price $10.39
To Price $149.99
Elite Professional Watercolor Brushes - Designed and optimized with advanced 3D imaging tech!
The New York Central brush makers didn't just try to imitate the characteristics of natural hair they set out to create something superior and succeeded with Oasis! Move Over Kolinsky! Oasis is the Best Brush for Watercolor and Design! Each brush is made by blending different filament diameters, taper ratios, and lengths. A computer simulation determines the precise combination of filaments before each brush is assembled by hand. Over 30 types of synthetic hair are blended to accurately imitate natural hair. This attention to detail results in a soft, extremely absorbent brush that holds its shape well and has great snap.
Key Features:
Designed and optimized with advanced 3D imaging tech
Absorbent synthetic filaments hold a large amount of liquid
Superior split-proof point
Designed to outperform natural hair
Vegan (no animal by-products)
Ergonomically shaped birch wood handle
High-quality anthracite colored ferrule
Hand-made by skilled artisans in Germany
Perfect For:
Animal-friendly artists
Use with watercolor, gouache, ink, and acrylics
Painting fine details or bold washes of color
Controlled painting techniques that require a sharp edge
Professionals, art enthusiasts, and students
Has New Item(s)

New Item(s) available from this line. See NEW items below that just arrived or added to our online store (indicator: NEW in blue under product item #)
Email
Need Help ? Chat With An Expert
New York Central® Oasis Synthetic Premium Brushes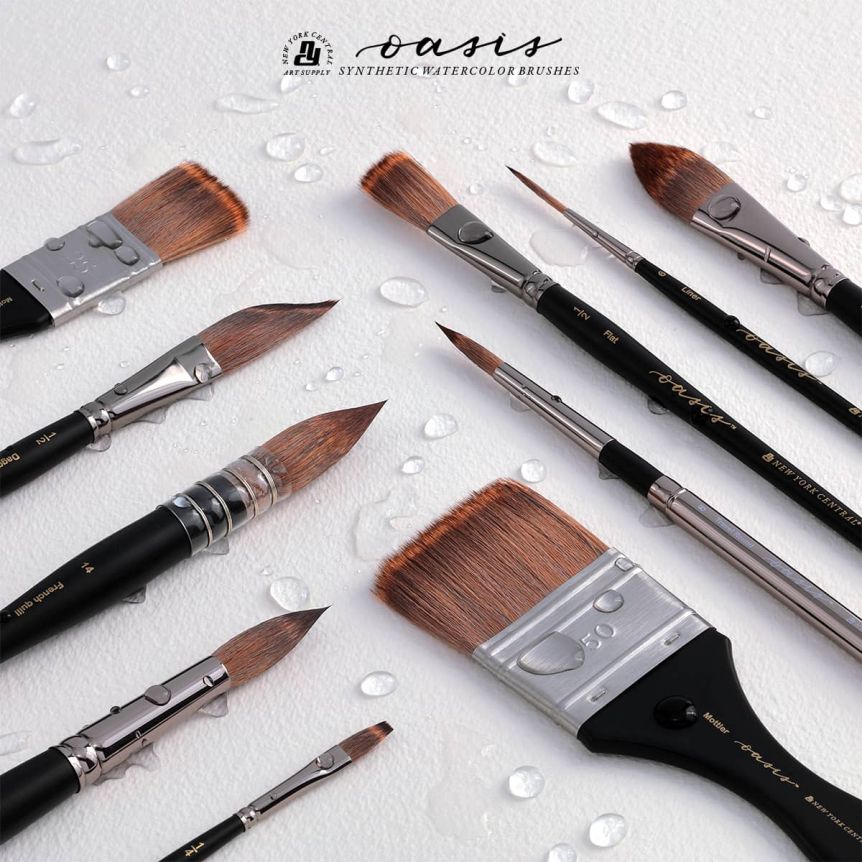 Click Tabs For More
Product Notes:
LPP

Lowest Price - This item is already at the Best Lowest Price Possible and no further discounts or coupons can be applied.
Grid
Grid View
List
List View
x