Watch Over 4000 Free Video Art Lessons
Get Inspired! Over 12,000 hours of Art Instruction! All Media, All Skill Levels.. Let's Create More Art!
Like most gifted artists, Dan Nelson's artistic journey began early. His father was a gifted oil painter, so it seemed natural for Dan to fill reams of notebook paper with sketches, scribbles and assorted visual experimentation. He failed the first assignment of his academic career by coloring the balloons instead of counting them. Undaunted by such inauspicious beginnings, he went on to win a string of prestigious awards: in the third grade he won 2nd place in a national safety poster contest... At age ten he won 5th place in a small town pumpkin carving contest... at age 15 he won a local window painting competition (against a bunch of kids half his age, as it turned out.) Needless to say, such breathless accolades kept the art-itch going, so he earned a Bachelor of Fine Arts degree at a small midwestern college. But Dan's art journey was to be far from conventional. He left college to pursue the endeavors of any respectable renaissance man — philosophy, theology, music, literature, theater, science, and even athletics. It took decades for these endeavors to coalesce into the path Dan is traveling today: an artist of unusually wide scope traveling the country dazzling festival-goers as "The World's Largest Plein Aire Painter," captivating marriage celebrants as "The Wedding Painter," producing top-notch illustrations for ad agencies, publishers, and big businesses, churning out monthly airbrush covers for the fastest growing children's publication in the country ("Kidsville News!"— now over a million a month in 28 states!), rendering everything from portraiture to architecture and cartoons to calligraphy; teaching, performing, motivating, designing, inventing, building... and, yes, painting, painting, and more painting!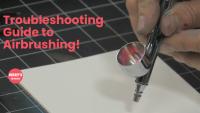 About A Troubleshooting Guide To Airbrushing
Come join us for an exciting series of free art lessons in which professional artist Dan Nelso...