Mezzo® Artist Studio Storage Racks
Save Instantly From
$11.96
From Price $12.99
To Price $89.99
Upright, Easy to view, Studio Storage!
The Mezzo® Racks (patent pending) help you to organize your studio supplies while also making it easy to grab what you need while working. The easy-to-clean smooth woodgrain laminate material is incredibly lightweight and sturdy. Use multiple Mezzo® racks to display and organize your whole studio. The configuration possibilities are endless!
6 Mezzo Rack's to Choose From!
Click on the item number to view rack specs and information
Key Features:
Easy assembly
Upright, easy to view, organization
A breeze to clean
Holds long and short handle brushes
Incredibly lightweight and sturdy
Small paint slots for tubes up to 60mL
Large paint slots for tubes up to 225mL
Woodgrain laminate material
Perfect For:
Painters and illustrators
Studio organization
Work areas where space is at a premium
Organizing brushes and paint tubes
Has New Item(s)

New Item(s) available from this line. See NEW items below that just arrived or added to our online store (indicator: NEW in blue under product item #)
Email
Need Help ? Chat With An Expert
Mezzo® Artist Studio Storage Racks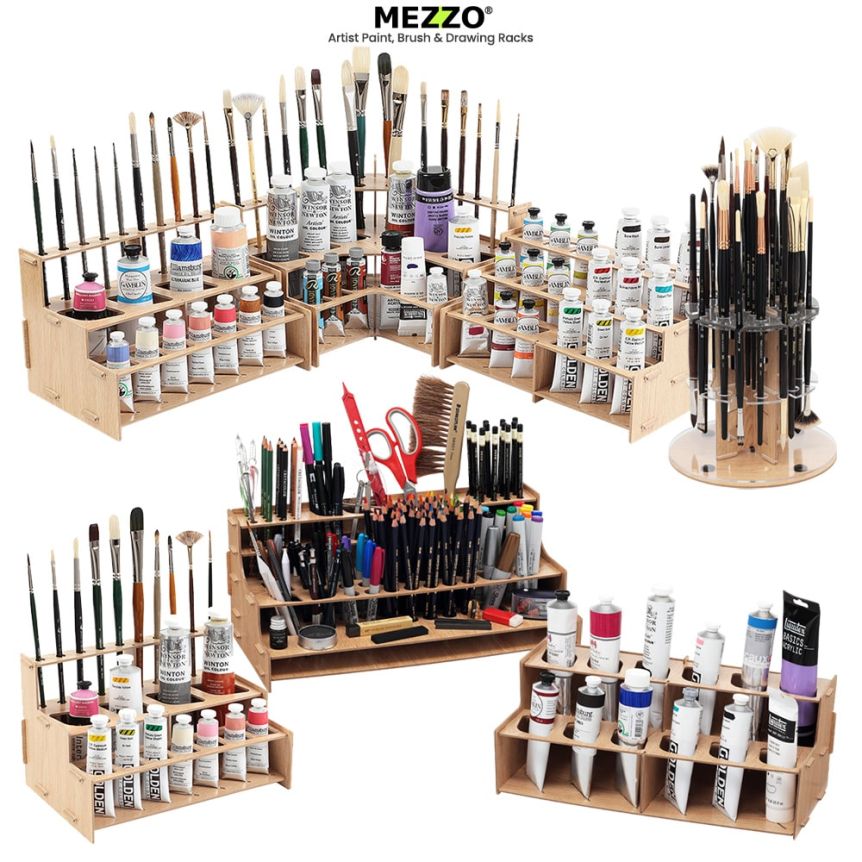 Click Tabs For More
Product Notes:
LPP

Lowest Price - This item is already at the Best Lowest Price Possible and no further discounts or coupons can be applied.
Grid
Grid View
List
List View
x