Watch Over 4000 Free Video Art Lessons
Get Inspired! Over 12,000 hours of Art Instruction! All Media, All Skill Levels.. Let's Create More Art!
How To Color A Cartoon Kitten with Markers | Video Art Lessons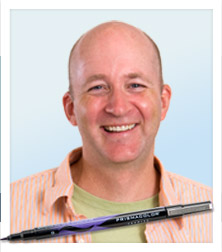 How To Color A Cartoon Kitten with Prismacolor Markers
with Bob Ostrom
Description
Follow along with childrens book illustrator Bob Ostrom as he demonstrates how to purrfectly color in a cartoon kitten in this free art lesson. Watch and learn how he keeps the color consistent and smooth using Prismacolor markers to fashion a feline so fancy youll want to create your own! This lesson is full of great marker techniques and will be a learning experience that will make any cartoonist more enthusiastic than the Cheshire cats grin!
Skill Level:
Beginner, Intermediate
About Bob Ostrom
My first semi-professional illustration job came in the third grade when I traded a really lame monster drawing for a peanut butter and jelly sandwich. When I got a little older I realized I was pretty good at drawing, so I went to art school in Boston. During my second year I entered a contest for Molson Golden. To my surprise, not only did I win, but I was handed a check for $500.00 and a contract to do more artwork for them. Suddenly I was a professional! After college I worked with sev...
More About Bob Ostrom
Brand Advocates & Ambassadors Wanted!
Learn More