All Skill Levels • Learn at Your Own Pace • All Media Available • Learn from Home
FREE Video Art Lessons
All media... all skill level... Create More Art!
2000+ FREE Video Art Lessons
All Media & Skill Levels
Fun to Watch
Learn at your own pace
Best of all - its FREE!
Free video art lessons, product demos and artist solutions, designed to help artists at every skill level from beginner to professional.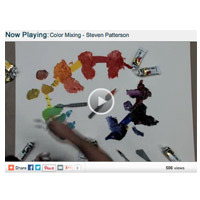 "Great service! I use this for my classrooms and students" - Sharon - Art Teacher;
"I was able to get started in oil paints and follow along to the next level, thanks!" Jennifer - Beginning Artist
Instructional Art DVD's
All media... all skill level... Create More Art!
All Media's Available
All Skill Levels
$12.99
each DVD's
$ 9.99
for 2 or more DVD's
Learning how to master various artistic techniques can be both fun and educational— and now, convenient!
"The World of Art Video Collections featuring your favorite artists covers everything from history lessons of the Early Renaissance to how to paint upside down, how to paint clouds, how to do certain techniques and much more."
Reel Art Academy
Take your seats. Class is in session!
Everything You Need!
DVDs + Supplies (kits)
Acrylic DVDs
Drawing DVDs
Oil Painting DVDs
Watercolors DVDs
All the materials you will need to create each and every project from each artist's DVDs and Free Art Lessons are included in their Stater Set!
"Be sure to watch the Starter Set video from the artist you are selecting, where they will not only go over all the materials in their Starter Set, but also show you how to set up for painting along with them for every Reel Art Academy video they have made."
Home Art School
Grades K - 5
Your Personal Art Teacher
Moms Best - Award Winner
Kindergarten DVD + Supplies
First Grade DVD + Supplies
Second Grade DVD + Supplies
Third Grade DVD + Supplies
Fourth Grade DVD + Supplies
Fifth Grade DVD + Supplies
Art Program designed to illustrate the elements and principles of art in an age-appropriate way
"I bought this for my second grade girl who loves anything to do with art. This makes art doable for me as a homeschool mom with several little ones."
Other Art Education and Learning Materials
Leonardo Art Education Books
This collection of Leonardo Art Education Learning Books are a valuable tool for any beginning artists looking to learn about drawing and painting. Each book offers perfectly directed and easy to follow illustrations and clear explanations.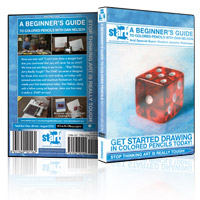 Start Art DVDs
Everyone can be an artist! Think you don't have the time? Think you don't have the talent? Think again! These art instructional DVDs are the perfect way to get started in art. At such a reasonable price, you can explore your art interests with very little investment.
Reference Books
This collection of how-to and reference books includes popular titles like Learn to Draw in a Weekend, the Art of Portrait Drawing, Create Fantasy Figures and the Joy of Painting series from Bob Ross!
Color Wheel Colors Charts
The Color Wheel provides a simple, visual aid for illustrating and teaching color mixing relationships. Easy to use and understand, it is a basic tool for teachers, students, artists and anyone making color selections.
Oil & Acrylics DVDs
The wonderful DVDs in this category will help you explore your medium no matter if you use oils or acrylics. The detailed instructions from world-famous artists are sure to help you explore your own creative avenues!
Watercolor Paints DVDs
Watercolor can be one of the most challenging, yet rewarding, mediums. You can do just about anything with watercolors, and these DVDs are sure to fun, educational, and give you some ideas you have never thought were possible!
Artist Recommendation
Artist Signature Spotlight & Supplies They Use
Pam Carriker
is a life-long art lover, who grew up in the Pacific northwest. To pursue a creative life was her dream and she is living that dream through a multitude of different artistic outlets...
read more »
Alexey Steele,
born in Kiev, Ukraine in 1967, began his art training at an early age in the studio of his father, the renowned Russian painter, Leonid Steele...
read more »
Andy Russell
is widely recognized as a master in acrylic painting. He embarked on his artistic journey over 35 years ago, when he began having dreams of vibrant and ethereal landscapes...
read more »
Brian Neher
is a professional portrait painter whose work has been featured in American Artist Magazine as well as their Portrait and Figure Painting Highlights edition and on National Public Television...
read more »
Weekly Online Art Education and Video Lessons For Kids! Every Monday Have Your Own Class at Home, School or Have Your Kids Follow Along. New Episodes will go live every Monday at 9am on YouTube.