Watch Over 4000 Free Video Art Lessons
Get Inspired! Over 12,000 hours of Art Instruction! All Media, All Skill Levels.. Let's Create More Art!
How To Sketch a Hamster Cartoon in Marker | Video Art Lessons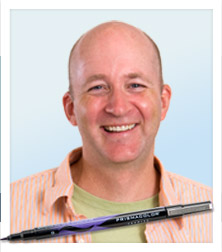 How To Sketch and Draw a Hamster Using a Brush Tip Pen
with Bob Ostrom
Description
Follow along with childrens book illustrator Bob Ostrom in this charming video art lesson on how to sketch and draw a chubby cartoon pet hamster. Using a Derwent colored pencil and Sakura brush tip pen to outline, Bob takes you through the steps of drawing from the initial sketch to the finished twitchy, furry fellow. For everyone from beginner to professional, this video is full of drawing techniques and is a great learning experience!
Skill Level:
Beginner, Intermediate
About Bob Ostrom
My first semi-professional illustration job came in the third grade when I traded a really lame monster drawing for a peanut butter and jelly sandwich. When I got a little older I realized I was pretty good at drawing, so I went to art school in Boston. During my second year I entered a contest for Molson Golden. To my surprise, not only did I win, but I was handed a check for $500.00 and a contract to do more artwork for them. Suddenly I was a professional! After college I worked with sev...
More About Bob Ostrom
Brand Advocates & Ambassadors Wanted!
Learn More