Watch Over 4000 Free Video Art Lessons
Get Inspired! Over 12,000 hours of Art Instruction! All Media, All Skill Levels.. Let's Create More Art!
Why Free!

Let's Create More Art

Jerry's Artarama is committed to helping the artist community through the use of our extensive library of "How To" Free Art Lessons on Video.
Artist experts and professionals demonstrate, teach, offer tips, techniques and art instructions on video for beginners just starting out, intermediate in training and advanced artists.
Exciting Free Art Lessons and Art Instructions Include:

Whether you are just starting out, a more skilled artist or advanced artist....getting new tips, ideas and techniques could never be more fun and exciting!

FREE VIDEO Art Lessons and Art Instructions on Video - How To Draw, Paint

FREE VIDEO Art Lessons and Art Instructions on Video - How To Draw, Paint

Create paintings
How to draw
Oil painting lessons
Easily blend oil pastels
Acrylic painting techniques
Sumi painting, Brush Control, Ink drawing, drawing the figure, pen and ink techniques
Acryilic resist painting technique
Draw the human figure
Realism to your still life paintings
Learn to draw people and faces.
Get the art supplies and materials seen in the free art lessons

Art instruction subjects also include: Painting clouds, painting sunsets, painting sunrays. Using oil paints,acrylic paints, pastels, painting in pastels, lessons for beginners, advanced, lessons for intermediate and professionals. How to draw faces, animals, figures, people and more.
How To Start A Painting and Find A Subject | Video Art Lessons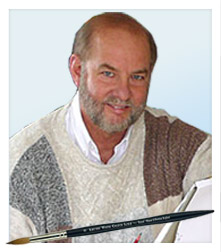 Creating From Chaos: Starting A Painting and Finding A Subject
with Ed Labadie
Description
If youre interested in painting but unsure of where to begin, let professional artist Ed Labadie be your guide. In this free art lesson, Ed explains how to start a painting and find your subject matter.
Skill Level:
Intermediate, Advanced
Subject:
How to Start A Painting
About Ed Labadie
Ed Labadie's current creations combine color, contrast, dynamic composition, and abstraction to entice the eye and intrigue the mind. Geometric shapes pull viewers into paintings initially, and further study rewards them with hidden subject matter coupled with a sense of discovery. Equally comfortable in both watercolor and oil, Labadie uses each medium to its maximum. Labadie's works are notable for their vibrant colors, creating memorable impressions with viewers, elevating his art from ...
More About Ed Labadie
Brand Advocates & Ambassadors Wanted!
Learn More