Watch Over 4000 Free Video Art Lessons
Get Inspired! Over 12,000 hours of Art Instruction! All Media, All Skill Levels.. Let's Create More Art!
How To Create Textures Using Styrofoam Balls and Modeling Paste | Video Art Lessons
Textures 3 with Modeling Paste
with Suzy Andron
Description
Join professional artist Suzy Andron for an exciting Free Video Art Lesson demonstrating how to create simple, fun textures by using styrofoam balls and modeling paste!
Skill Level:
Beginner, Intermediate, Advanced
Subject:
Texture, Styrofoam, Modelling Paste
About Suzy Andron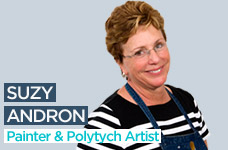 I have been painting for as long as I can remember. As a young child, my mother brought crayons and paper to keep me quiet during church services. My entire life has been influenced by art. There is nothing more pleasing to me than painting. When I am working on a piece, I feel exhilarated. Expectant. Scared. Occasionally, I even wonder, "What am I going to do with this mess?" I am "anti-style" as I paint, but there is continuity in my work. In 2000, I started painting triptychs. Soon, I e...
More About Suzy Andron