Watch Over 4000 Free Video Art Lessons
Get Inspired! Over 12,000 hours of Art Instruction! All Media, All Skill Levels.. Let's Create More Art!
How To Paint Multi Canvas Polytychs | Video Art Lessons
How To Begin Working With Polytychs
with Suzy Andron
Description
Dating all the way back to Medieval times, Polytychs have been a popular art form. Using several canvases or panels, Polytychs create a single piece of art. They were used frequently to depict images from the Bible. Suzy Andron brings a more modern spin to the concept of polytychs by incorporating unique textures and designs that anyone can learn. Intriguing artwork that will give you immediate results and make a huge impact on your art. This lesson is an excerpt from Suzys full-length DVD, Polytychs: Multi-Canvas Painting .
Skill Level:
Beginner, Intermediate
About Suzy Andron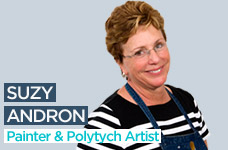 I have been painting for as long as I can remember. As a young child, my mother brought crayons and paper to keep me quiet during church services. My entire life has been influenced by art. There is nothing more pleasing to me than painting. When I am working on a piece, I feel exhilarated. Expectant. Scared. Occasionally, I even wonder, "What am I going to do with this mess?" I am "anti-style" as I paint, but there is continuity in my work. In 2000, I started painting triptychs. Soon, I e...
More About Suzy Andron
Brand Advocates & Ambassadors Wanted!
Learn More