Watch Over 4000 Free Video Art Lessons
Get Inspired! Over 12,000 hours of Art Instruction! All Media, All Skill Levels.. Let's Create More Art!
How To Ink Lettering In Comics | Video Art Lessons
Cartooning Episode 06: Inking Lettering in Your Comic Strip
with Bruce Blitz
Description
Join professional cartoonist Bruce Blitz for an exciting Free Video Art Lesson on how to ink your cartoon lettering. Learn tips and tricks for creating your very own cartoon characters, depicting emotions in your cartoons with facial expressions, laying out a comic strip and much, much more in Episode 6.
Subject:
Inking Lettering
About Bruce Blitz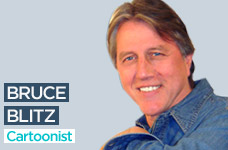 Bruce Blitz is the creator and host of the national and international television series, "Cartooning with Blitz". The series was so popular that 104 episodes were produced, and Bruce was awarded with four Emmy nominations for the show, plus an additional Emmy nomination for writing and performing all of the music. "Cartooning with Blitz" is a fast-paced cartooning variety show featuring everything from drawing animals, comic strips and cartoon portraits, to spinning the Wheel of Features, ...
More About Bruce Blitz