Watch Over 4000 Free Video Art Lessons
Get Inspired! Over 12,000 hours of Art Instruction! All Media, All Skill Levels.. Let's Create More Art!
Using an Artist's Portfolio | Free Video Art Lessons
Portfolios for Artists
with Art Career Experts
Description
Learn the importance of an artist portfolio for representing and marketing your artwork in this free online art video!
Skill Level:
Advanced, Professional
Subject:
Portfolio, Marketing
About Art Career Experts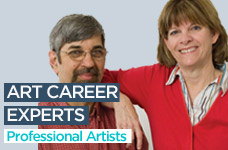 Artists M. Theresa Brown and Stephen Filarsky are full time artists who know what works! They not only live the life of an artist but every bill they pay comes from income received from selling their art products. Why haven't more artists achieved that dream goal? When it became obvious to Theresa and Steve that the methods of art marketing promoted by the art world emphasized career failure rather than success, each one took the road less traveled by parting ways with traditional art mark...
More About Art Career Experts