Watch Over 4000 Free Video Art Lessons
Get Inspired! Over 12,000 hours of Art Instruction! All Media, All Skill Levels.. Let's Create More Art!
Facepaint Mask Demonstration | Video Art Lessons
Facepaint
with Steven Patterson
Description
Steve Patterson shows you how to use Derivans Face and Body Paint by creating a mask on assistant Rachel.
Skill Level:
Beginner, Intermediate, Advanced
About Steven Patterson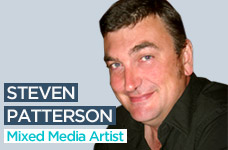 Steven Patterson was born in 1966 in Sydney, Australia into the family-owned artist paint company Derivan (the oldest educational and professional artists' acrylic paint manufacturer in Australia.) Steven was always surrounded by the artistic pursuits of the family business. From an early age he showed great interest in art, and this remained with him throughout his schooling. His work was chosen to be exhibited in touring school shows both at primary and high school levels. On leaving sch...
More About Steven Patterson
Brand Advocates & Ambassadors Wanted!
Learn More