Elizabeth Levesque
Even as young children, especially as young children, we often embrace superstitions and imbue harmless objects with the power to help us control our lives. I remember playing with Ouija boards as a preteen, reciting the alphabet as I twisted off a soda can tab, playing MASH and always having a rabbit's foot on hand. I didn't over think these toys or rituals or the common place, harmless but still comforting. Now that I am an adult I can look back and analyze these past behaviors and often find surprising new ones that I see other adults practice.
In my paintings I attempt to convey a feeling of need for control but also an avoidance of responsibility. Many things that happen in our lives are out of our control, but plenty still is within our reach to influence. It can be easier to say that the stars must not have been aligned or that our luck ran out than it is to simply accept that we made the wrong decision. It's easier and sweeter to wish on a star or let a fortune cookie guide our choices than it is to plan ahead and calculate. For such a secular society we still are attempting to make magic. I am not criticizing our superstitious nature in my paintings. I am simply admitting it.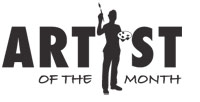 Jerry's Artarama invites you to enter our Artist of the Month Contest!
Each month Jerry's Artarama will:
Select one artist to be featured on our facebook page
Display their artist statement and images on our Facebook page as well as the SPLATTER blogazine.
The artist of the month will also receive a $65 gift card to use either online or in-store!



Want to be the Artist of the month.. Here's How!
Please send 5-10 digital images of your work along with an artist statement to [email protected]

Unfortunately, we will not be able to respond to your entries but we will inform you if you have been selected!