Faber-Castell Pitt Monochrome Graphite Sets
Save Instantly From
$9.36
From Price $29.64
To Price $390.00
These opulent sets boast expert craftsmanship inside and out!
Faber-Castell's Pitt® Graphic range provides all artists with an extensive range of pencils and crayons in different degrees of hardness for sketching, graphic design and shading work. The "green pencil from Faber" which had approval from Van Gogh and Goethe, has now become part of everyday life. The 16 grades of hardness - from a delicate grey hue to a deep graphite black - offer artists a wide range of possibilities. The Pitt® Graphite Pure leads are ideal for creating contrasts and shading. The Pitt® Graphite Crayons are a very economical medium for working on large sketches. The Pitt® Charcoal Pencils leave a black line, while the Pitt® Natural Charcoal sticks greyish-blue shade glides softly across the paper. The Pitt® Monochrome Crayons in black, white, sanguine and sepia, hark back to the long tradition of figure drawing. With all this selection, the Faber-Castell Pitt® Graphic range is the ideal choice for anyone who enjoys classic drawing materials! Available in professional quality sets with selections perfect for every artist!
Email
Need Help ? Chat With An Expert
Faber-Castell Pitt Monochrome Graphite Sets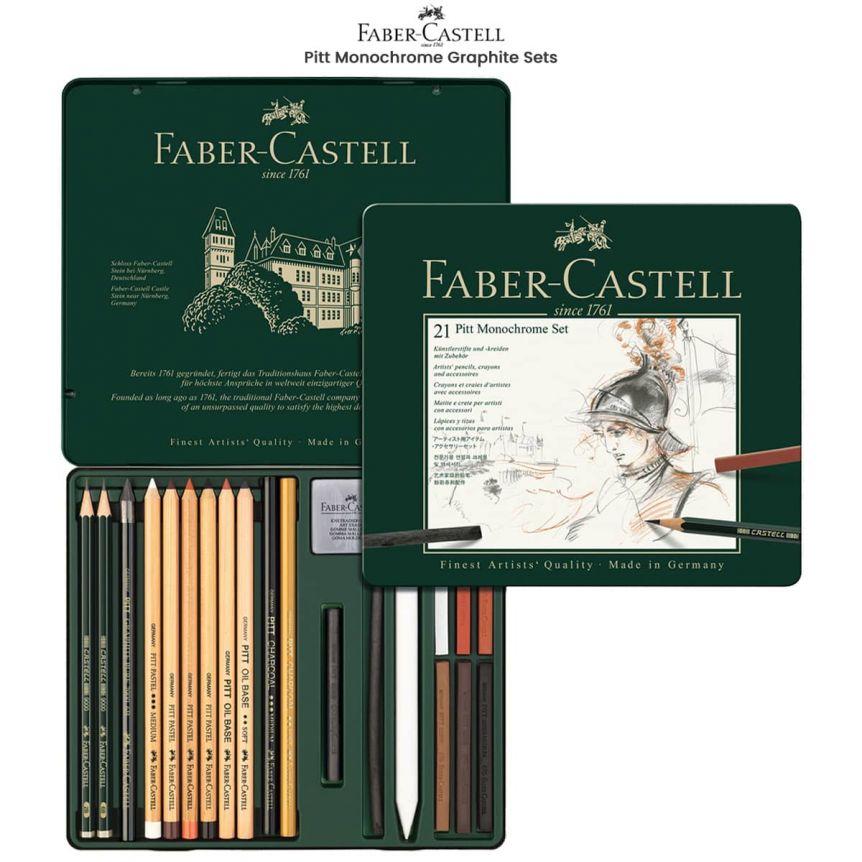 Click Tabs For More
Product Notes:
LPP

Lowest Price - This item is already at the Best Lowest Price Possible and no further discounts or coupons can be applied.
Grid
Grid View
List
List View
x