Da Vinci Multimedia Multi-Angle Convertible Easel
The perfect studio easel for any medium from pastels, paints & drawing!
Like its namesake, the Da Vinci Multimedia Easel is versatile and flexible, adapting well to virtually any medium! This popular easel is hand-crafted from deluxe elm wood with a beautiful oiled finish, with an innovative design that adjusts from totally vertical to completely flat and anywhere in between — making it perfect for sketching, drawing and painting in any media! The center mast stabilizer adds solidity for horizontal positioning, making the Da Vinci easel nearly as firm a support as a drawing table. Additionally, the top and bottom canvas holders feature rubberized grips for a non-marring, secure hold, and the integrated utility shelf is ideal for storing supplies in close reach.
Key Features:
Studio easel for painting & drawing in any media
Adjusts from horizontal to vertical
Mast stabilizer, utility shelf & easy-turn knobs
Holds canvas up to 45" high
Folds flat for storage
24x28" base footprint; 70" extended height; 34" table height
Perfect For:
Painting in oils, acrylics & more
Sketching & drawing in pencil & pastel
Home studios where space is an issue
Artists who work in multiple media
An adaptable easel for any artist!
Email
Need Help ? Chat With An Expert
Da Vinci Multimedia Multi-Angle Convertible Easel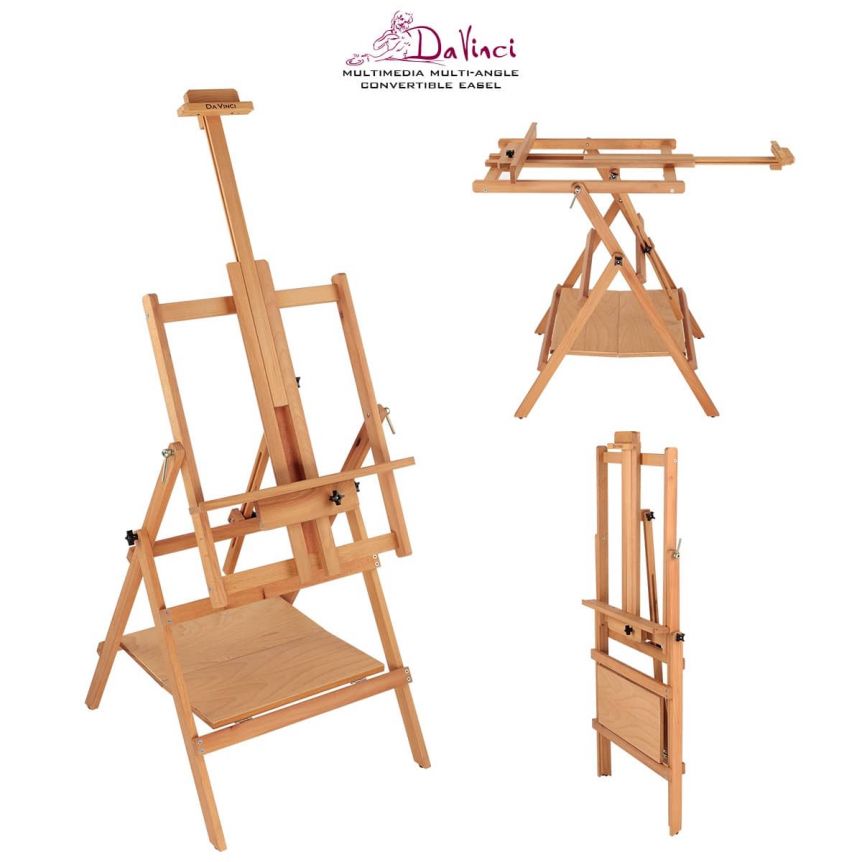 Click Tabs For More
Product Notes:
Is Proprietary

Exclusively At Jerry's! A Jerry's Artarama exclusive brand. The exclusive brands offer amazing quality, exceptional performance & great value. Comes with a 30 day money back guarantee!

LPP

Lowest Price - This item is already at the Best Lowest Price Possible and no further discounts or coupons can be applied.

Tech Notes:

Click This Icon To See Tech Notes

MATERIALS USED IN MAKING PRODUCT: WOODTYPE OF WOOD: ELM WOODCARTON SIZE: 7X 21X 56 TPYE OF FINISH: OIL WEIGHT: 20 LBS MINIMUM DIMENSIONS: (w)23X(d)28X(h)37 MAXIMUM DIMENSIONS: (w)23X(d)28X(h)71 TILT FORWARD: YES STORAGE DIMENSIONS: 5X23X53LAY HORIZONTAL: YES
Grid
Grid View
List
List View
x