Winsor & Newton Artists Acrylic Gesso Primers
Save Instantly From
$6.84
From Price $11.55
To Price $27.47
Seals and stabilizes surface prior to painting!
Because a high-quality painting begins with a high-quality base, start your painting right with Artists' Acrylic Clear or White Gesso! Both offer excellent tooth for great paint adhesion, are fast drying, and have a balanced absorbency. The White Gesso has a very high level of pigmentation for maximum opacity and covering power, meaning that 1 to 2 coats on unprimed canvas is all you need. The Clear Gesso is exactly that: clear, not milky like some other "clear" gessoes. It can be tinted with acrylics to add some color to your primer or used alone to allow the qualities of your canvas or board to show through. It also makes a great ground for pastels or charcoal. Both non-yellowing, flexible gessoes are perfect primers for all your acrylic, oil, and alkyd paintings!
Key Features:
High quality base for acrylic painting
Excellent tooth for paint adhesion
Fast drying properties
Non-yellowing gesso
Perfect For:
Professional artists
Providing a sealed, stabilized surface
Priming canvas for acrylic, oil and alkyd paintings
Excellent ground for charcoal and pastels
Email
Need Help ? Chat With An Expert
Winsor & Newton Artists Acrylic Gesso Primers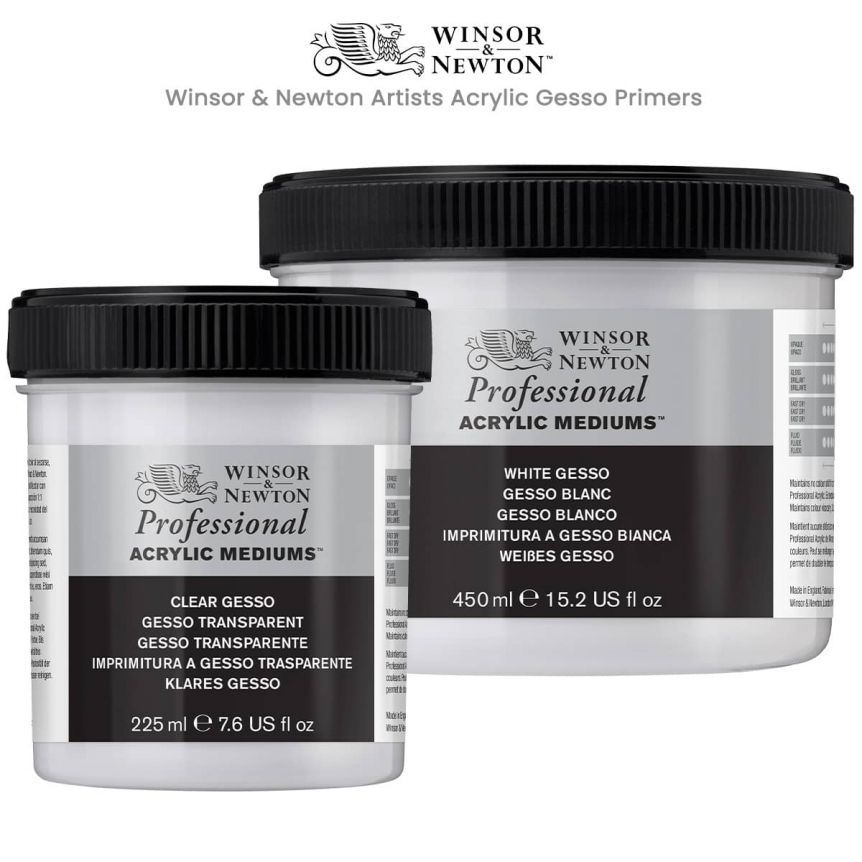 Click Tabs For More
Product Notes:
LPP

Lowest Price - This item is already at the Best Lowest Price Possible and no further discounts or coupons can be applied.
Grid
Grid View
List
List View
x