Strathmore Hardbound Art Journals
Save Instantly From
$8.80
From Price $17.85
To Price $39.02
Luxury hardbound art books with professional papers for any artist!
For over 100 years, the name Strathmore has been synonymous with some of the finest art papers in the world. Strathmore 400 Series & 500 Series Hardbound Art Journals in Toned Tan, Toned Gray and Mixed Media, created their highest quality and most unique papers to offer them in deluxe hardbound books perfect for any artist in virtually any media. These luxury hardbound art journals feature hard covers with a lightly textured, matte surface in a dark chocolate brown for an elegant and sophisticated look. The acid-free pages are bound using a Smyth-sewn binding that lays open flatter than most other bound books, and ensures durability. Available in 80 lb. Recycled Drawing paper, 80 lb. Toned Sketch paper in Gray or Tan, 90 lb. Mixed Media paper, or 140 lb. Watercolor Paper, Strathmore Hardbound Art Journals offer the ideal surface for any multitude of artistic techniques!
Key Features:
Luxurious, acid free hardbound art books
Smyth-sewn binding lays flat
Textured matte brown covers
Choose from Recycled Drawing, Toned Sketch, Mixed Media or Watercolor papers
Perfect For:
A choice of professional art papers
An elegant presentation
Works in pencil, pastel, charcoal
Watercolor, acrylic mixed media
Art that will last generations!
Email
Need Help ? Chat With An Expert
Strathmore Hardbound Art Journals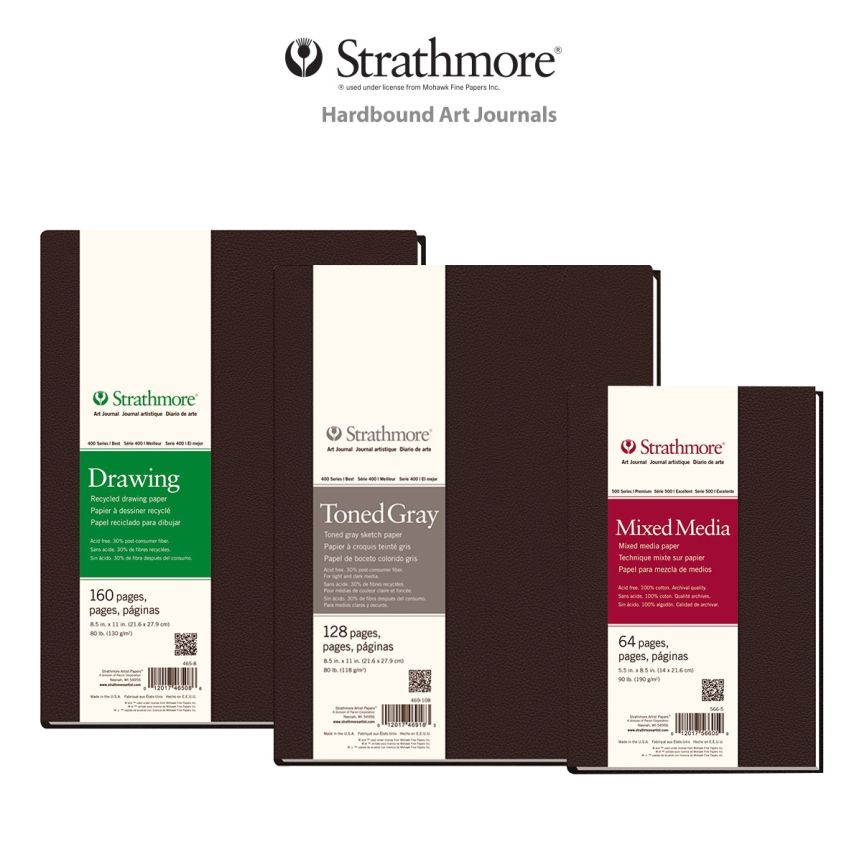 Click Tabs For More
Product Notes:
LPP

Lowest Price - This item is already at the Best Lowest Price Possible and no further discounts or coupons can be applied.
Grid
Grid View
List
List View
x