Stillman & Birn Nova Series Softbound Sketchbooks
Save Instantly From
$3.19
From Price $12.76
To Price $26.36
Premium Softcover Sketchbooks - High-Performance Art Papers
Stillman And Birn Nova Series Sketchbooks are ideal for a wide range of media. The medium grain 93lb (150 gsm) paper can withstand multiple erasures. The unique Nova softcover sketchbooks hold 46 sheets of a beige, black, or grey toned paper. With Stillman and Birn Nova Series Sketchbooks, anyone can confidently experiment on a paper that will support the most demanding techniques. Rounded corners give these sketchbooks an upscale look and help to prevent fraying edges
Key Features:
High-performance, robust art papers
Rugged softcover binding
Rounded edges to prevent fraying
Exceptional paper strength for layering and lifting wet media
Beige, Grey, or Black paper
46 acid-free sheets / 92 pages
93 lb (150 gsm)
Note: Click on Yellow Icon Next to each product for more details
Perfect For:
Mixed Media
Colored pencils, inks, gel pens, paint markers
Watercolors, gouache, chalk pastels, oil pastels
Water-soluble graphite, charcoal, Conté crayons, colored dry pigments
Ink and liquid watercolor
Email
Need Help ? Chat With An Expert
Stillman & Birn Nova Series Softbound Sketchbooks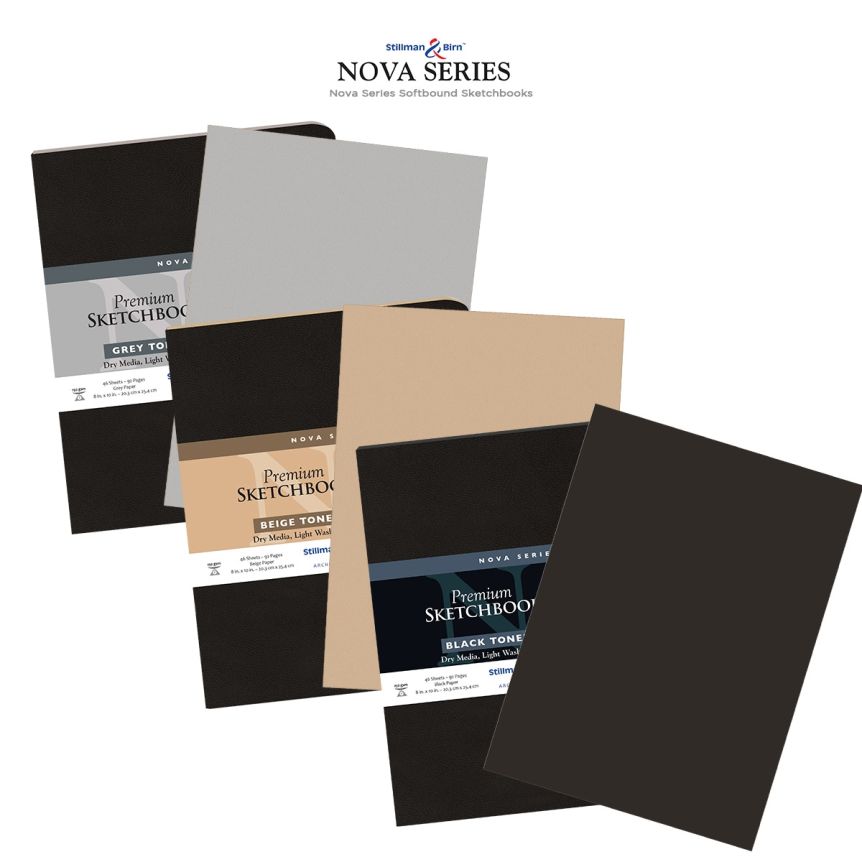 Click Tabs For More
Premium Softcover Sketchbooks - High-Performance Art Papers
Stillman And Birn Nova Series Sketchbooks are ideal for a wide range of media. The medium grain 93lb (150 gsm) paper can withstand multiple erasures. The unique Nova softcover sketchbooks hold 46 sheets of a beige, black, or grey toned paper. With Stillman and Birn Nova Series Sketchbooks, anyone can confidently experiment on a paper that will support the most demanding techniques. Rounded corners give these sketchbooks an upscale look and help to prevent fraying edges.
Key Features:
High-performance, robust art papers
Rugged softcover binding
Rounded edges to prevent fraying
Exceptional paper strength for layering and lifting wet media
Beige, Grey, or Black paper
46 acid-free sheets / 92 pages
93 lb (150 gsm)
Note: Click on Yellow Icon Next to each product for more details
Perfect For:
Mixed Media
Colored pencils, inks, gel pens, paint markers
Watercolors, gouache, chalk pastels, oil pastels
Water-soluble graphite, charcoal, and Conté crayons
Ink and liquid watercolor
Grid
Grid View
List
List View
x