Gotham Black Extra-Deep Gallery Frames
Save Instantly From
$10.44
From Price $9.51
To Price $33.99
Professional Look, Economical Pricing - Gallery-quality Extra-Deep frames
Gotham Black Extra-Deep Frames are sleek, gallery-quality extra-deep frames suited for heavy-duty canvas up to 2-1/4" deep. These Frames are available in a range of standard sizes, from 4x4" to 24x36". Get a professional look for your finished artwork with crisp, clean lines and midnight black finish of Gotham Black!
Gotham Black Frames do not come with glass, backing, or hardware.
Custom Made To Order: may take up to 1 week delivery time - These frames are made to order by our in-house expert framers.
Key Features:
Made With high density Renewal-Core patented ecological material
2-1/4" Depth, 2" Rabbet and 1-1/8" Face
Assembled in the USA by skilled craftsman
Use fitting tool to fit any canvas or matted/mounted artwork in seconds
Use screw eyes and wire to complete your professional looking frame
Crisp, clean lines and rich, midnight black finish
Standard sizes, ranging from 4x4" to 24x36"
Perfect For:
Heavy duty canvases up to 2" deep
Artists looking for a crisp, modern framing option at reasonable prices
Artists looking for a wide size variety in frames
Professional look for your finished artwork
Gallery presentations
General purpose glass, mats, paper art and canvas
Email
Need Help ? Chat With An Expert
Gotham Black Extra-Deep Gallery Frames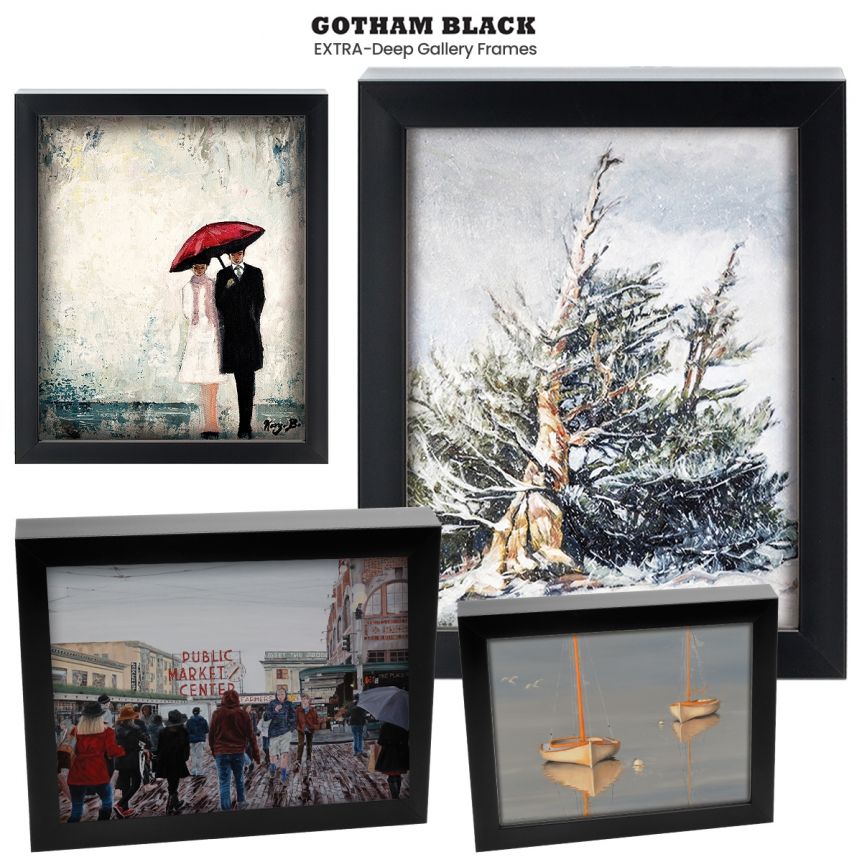 Click Tabs For More
Product Notes:
LPP

Lowest Price - This item is already at the Best Lowest Price Possible and no further discounts or coupons can be applied.
Grid
Grid View
List
List View
x