Goldenritt SketchWriter Fountain Pens
Finally, a fountain pen designed for the artist!
Unlike other traditional fountain pens, the Goldenritt® SketchWriter® is equipped with a triple-section titanium nib, making this fountain pen a delightful option for both writing and sketching! Available in two styles; Victoria for travel and Rockwell for everyday use. Goldenritt® SketchWriter® can help to revolutionize the way you create. In everything from writing to sketching, we are sure that you will find this pen to be a staple in your everyday life as an artist!
Key Features:
German-made, flexible titanium nib
Reversible nib creates varying lines
Victoria or Rockwell pen styles
Each pen comes with four half-sized black ink cartridges and a converter
Ink feeder made of ABS Plastic, 5.0 mm diameter
Pens available with extra-fine, fine, medium & broad nib sizes (each pen includes one nib)
Goldenritt® inks available in 7 artful colors in 30ml jars or 12-pack cartridges
Perfect For:
Sketching and smooth writing
Creating varying line thicknesses
Cartographers & calligraphers
Handwritten invitations
Pen and ink drawings
Travel or everyday use
Those who prefer a weightier pen
Smoother writing that requires less pressure to write
Hand fatigue and cramping relief
Write just by touching the pen to the paper
High-end professional quality
Allowing inspiration to strike wherever you may find yourself
Email
Need Help ? Chat With An Expert
Goldenritt SketchWriter Fountain Pens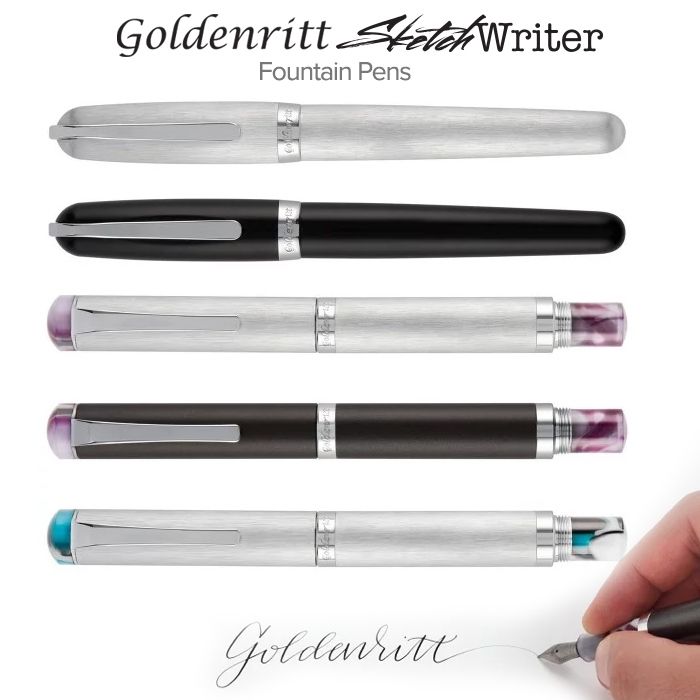 Click Tabs For More
Product Notes:
LPP

Lowest Price - This item is already at the Best Lowest Price Possible and no further discounts or coupons can be applied.
Grid
Grid View
List
List View
x