Lukas Professional Paints On Sale only at Jerry's!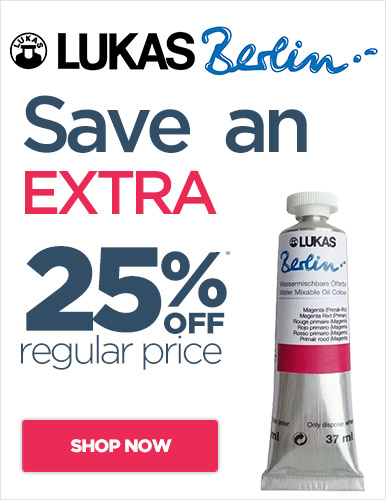 1862 Artists' Oils
Studio Oils
LUKAS Oil Painting Mediums - Mediums And Additives
LUKAS Oil Painting Mediums - Solvents And Thinners
LUKAS Oil Painting Mediums – Varnishes
Lukas Painting Butter Impasto Medium
Lukas Drying Oils
Lukas Cryl Acrylic Patina And Varnishes
Lukas Berlin Water Mixable Oil Colors
Lukas Berlin Water Mixable Oil Color Mediums
Lukas Cryl Liquid Fluid Acrylics
Lukas Acrylic Mediums
and much more!!

— Why Artists Choose LUKAS! —
If you havent tried LUKAS paints, you're missing out. LUKAS paints have amazing quality, incomparable color intensity, a brilliant color spectrum and high pigments. From oils to acrylics to watercolors, the paints produced by the German paint-maker have been pleasing artists for almost 150 years. From their founding in Dusseldorf in 1862 to now, LUKAS Artist Colors has kept its reputation as a "true artists paints".
Over 150 years of experience in superior product quality.
Innovative and useful product concepts.
Used by famous artists such as: Vincent Van Gogh, the Achenbach brothers, Joseph Beuys, and Hans George Baselitz.
Factory Direct Prices at Jerry's!
30-Day Money Back Guarantee!
Smooth And Amazing Blend Top Of The Line!
Mediums Wide range of oil painting mediums
Why use an inferior paint when you can get superior paint for a great price?
Discover More about LUKAS - High Performance, Great Prices
Did You know?
Fact: Van gogh used LUKAS 1862
Fact: over 150 years old
Fact: Preferred choice among European artists for over a century
Fact: Dries reliably in 2-4 days
Fact: Contains beeswax
A Brief History of LUKAS
In 1964, LUKAS was the first manufacturer in Europe to produce artists' acrylic colours. Consequently, LUKAS products have always been in accordance with the most modern techniques. This reason, along with LUKAS' strive for superior quality, led many well-known artists to trust the quality of our colours throughout the years. Beloved by artists since its inception, even Vincent Van Gogh was a happy customer of LUKAS, and wrote to his brother Theo:
"I have ordered colors from Schoenfeld [LUKAS] in Düsseldorf, as there were some colors which I couldn't get here...the picture with the potato eaters is not good in some details...I should have had a better result with the mineral blue that I have now [from LUKAS], instead of the old one."
Bring the master quality of Germany's finest artists' colors to your own paintings with LUKAS, and see what Van Gogh was talking about!
#LukasPaints