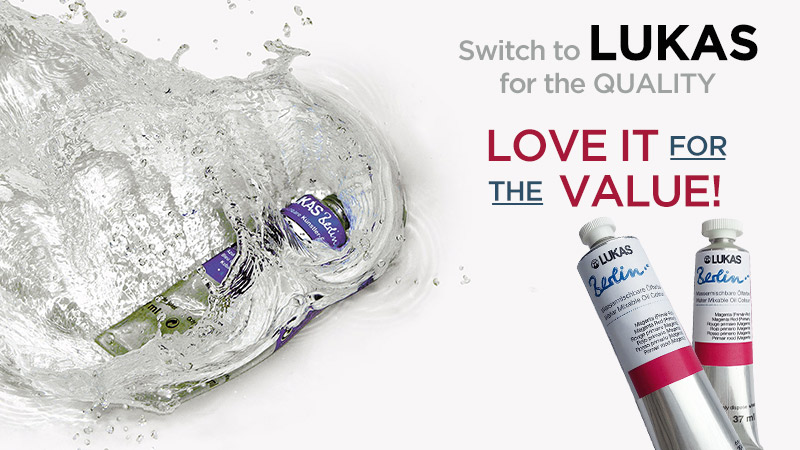 Higher Prices Do Not Equal Better Quality
70 Colors - 37 ml Tubes & 200ml Tubes
Delivers a smooth buttery consistency with a lovely feel
Finest German engineering
Dries to the touch in 2 to 4 days
Richly pigmented to deliver brilliant colors
Only the finest pigments are used
All are highly lightfast for permanent works of art
Virgin, cold-pressed linseed oil, non-yellowing sunflower oil, and a touch of beeswax binder for even drying.
Bring the master quality of Germany's finest artists' Oils to your own paintings
---
LUKAS Studio Oils
Heavy pigment load for exceptional coverage
Excellent light fastness rating for permanence of color
Smooth, buttery consistency
Dry to the touch in 2 to 4 days
Well-balanced 40-color spectrum available in both 37ml and 200ml tubes
LUKAS Berlin Water-Mixable Oils
Mixes directly with water
No need for toxic solvents like turpentine
High quality, lightfast pigments for exceptional coveage and permanence
Dry to the touch in 2 to 4 days
Well-balanced 30-color spectrum available in both 37ml and 200ml tubes
LUKAS 1862 Aquarell 1862
Highest quality pigments
Famous moist consistency
Outstanding mixing ability
Superior color lifting
70-color spectrum available in all half pans, whole pans, and 24ml tubes
LUKAS CRYL Studio Acrylics
60 color range in 75ml tubes, 250ml and 500ml bottles
Professional quality, medium-viscosity acrylics
Superb light fastness ratings for color permanence
LUKAS CRYL Pastos Acrylics
Master quality heavy body acrylics
Exclusive acrylic dispersion medium
70 color range available in 37ml and 200ml
LUKAS CRYL Liquid Acrylics
48 color range in convenient 250ml bottles
Superb light fastness ratings for color permanence
Paint film won't shrink, crack or wrinkle when drying
The true Artists' Gouache! Finest German opaque matte-drying watercolors!

LUKAS Designer's Gouache
Dries to an opaque, velvety matte finish
48 brilliant colors are available in 20ml tubes
Exceptional covering power
Outstanding fluidity, will not streak
LUKAS Designer's Gouache Sets
Basic Set of 6 - Features six 20ml tubes of primary colors plus Yellow Ochre Light, Ivory Black and Opaque White.
Pro Set of 12 - This professional gouache set features twelve 20ml tubes of primary and secondary colors, plus Ivory Black and Opaque White.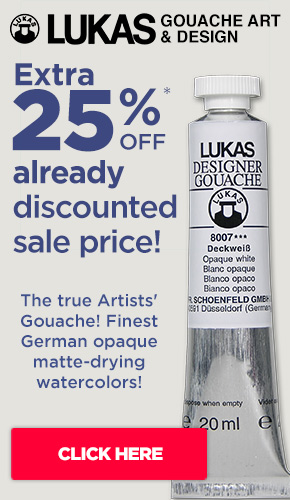 LUKAS Oil Paints
LUKAS Watercolor Paints
LUKAS CRYL Acrylic Paints
LUKAS Designer's Gouache
LUKAS Pure Pigments
Why does professional portrait artist Brian Neher use LUKAS 1862 Oils?

Professional Portrait Artist Brian Neher - Painted w/ LUKAS 1862 Oils

Read Blog Article >
---
---
8 Reasons for an Artist to Choose LUKAS
Over 140 years of experience in superior product quality.
Innovative and useful product concepts.
Used by famous artists such as: Vincent Van Gogh, the Achenbach brothers, Joseph Beuys, and Hans George Baselitz.
Wide range of specialty products that mass suppliers no longer produce.
Prices as low as possible.
Paints, mediums, and sets for all skill levels.
30-Day Money Back Guarantee!
Free video art lessons and product demos
Discover More about LUKAS - High Performance, Great Prices
Did You know?
Fact: Van gogh used LUKAS 1862
Fact: over 150 years old
Fact: Preferred choice among European artists for over a century
Fact: Dries reliably in 2-4 days
Fact: contains beeswax
Now you know!
---
A Brief History of LUKAS
In 1964, LUKAS was the first manufacturer in Europe to produce artists' acrylic colours. Consequently, LUKAS products have always been in accordance with the most modern techniques. This reason, along with LUKAS' strive for superior quality, led many well-known artists to trust the quality of our colours throughout the years. Beloved by artists since its inception, even Vincent Van Gogh was a happy customer of LUKAS, and wrote to his brother Theo:
"I have ordered colors from Schoenfeld [LUKAS] in Düsseldorf, as there were some colors which I couldn't get here...the picture with the potato eaters is not good in some details...I should have had a better result with the mineral blue that I have now [from LUKAS], instead of the old one."
Bring the master quality of Germany's finest artists' colors to your own paintings with LUKAS, and see what Van Gogh was talking about!