Canson Universal Sketch Pads
Save Instantly From
$4.72
From Price $6.23
To Price $20.94
Universal Sketch Pads
Artist quality sketch paper for a variety of dry media techniques!
These professional sketching pads are perfect for quick drawings in any dry media! Featuring fine textured, 65lb (96gsm) paper in true size, micro-perforated sheets. The double wire binding ensures the security of your art while working, and the sturdy chipboard back provides support during field drawing. The smooth paper surface erases well and is smudge resistant, and sketches can be removed from the pad with a clean edge. Smaller pads have 100 sheets of fine art sketch paper; 18×24" pads have 35 sheets.
Eco-friendly, artist quality paper for all dry media sketches!
Made from 100% recycled paper (10% post-consumer waste), these artist grade sketch pads are environmentally friendly and perfect for sketching in any dry media. Featuring sturdy, double-wire binding and a strong chipboard backing, these fine-textured, recycled paper pads have 100 sheets of 65lb (96gsm) true size, micro-perforated paper that is easy to erase and re-work.
Email
Need Help ? Chat With An Expert
Canson Universal Sketch Pads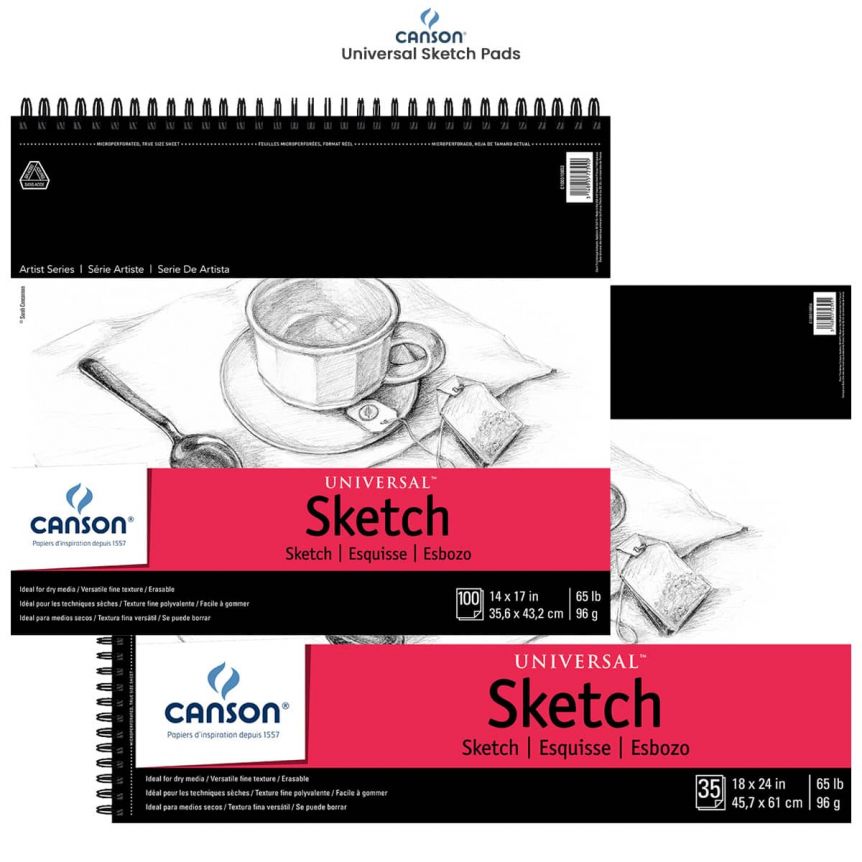 Product Overview
Product Notes:
LPP

Lowest Price - This item is already at the Best Lowest Price Possible and no further discounts or coupons can be applied.