Acurit Technical Drawing Pens
Save Instantly From
$1.81
From Price $1.29
To Price $9.99
Professional Technical Pens With Rich, Black Ink!
Professional Acurit drawing pens are perfect for creating ultra-fine detail in artwork and designs. These technical pens use permanent (light fast), acid-free, non-fading pigment ink and feature stunningly small nibs. Quickly identify the size of each drawing pen with their convenient barrel window! The Acurit technical pens are not waterproof, but for dry drawing the ink is permanent. Watercolorists should use the Acurit Waterproof Technical Pens (red barrel pen) which are more waterproof.
Key Features:
Light fast and acid-free
Non-fading pigment
Barrel window identification
Rich black ink
9 different nib sizes
Available in: .05mm, .1mm, .2mm, .3mm, .4mm, .5mm, .6mm, .8mm & 1mm
Water-soluable - ability to re-wet for drawing (not watercolors)
Perfect For:
Artists, architects and engineers
Adding detail to works of art
Creating ultra-fine detail in artwork and designs
Permanent application
Boundless creativity!
Shading, creating gradients
Can be sealed with a varnish
Email
Need Help ? Chat With An Expert
Acurit Technical Drawing Pens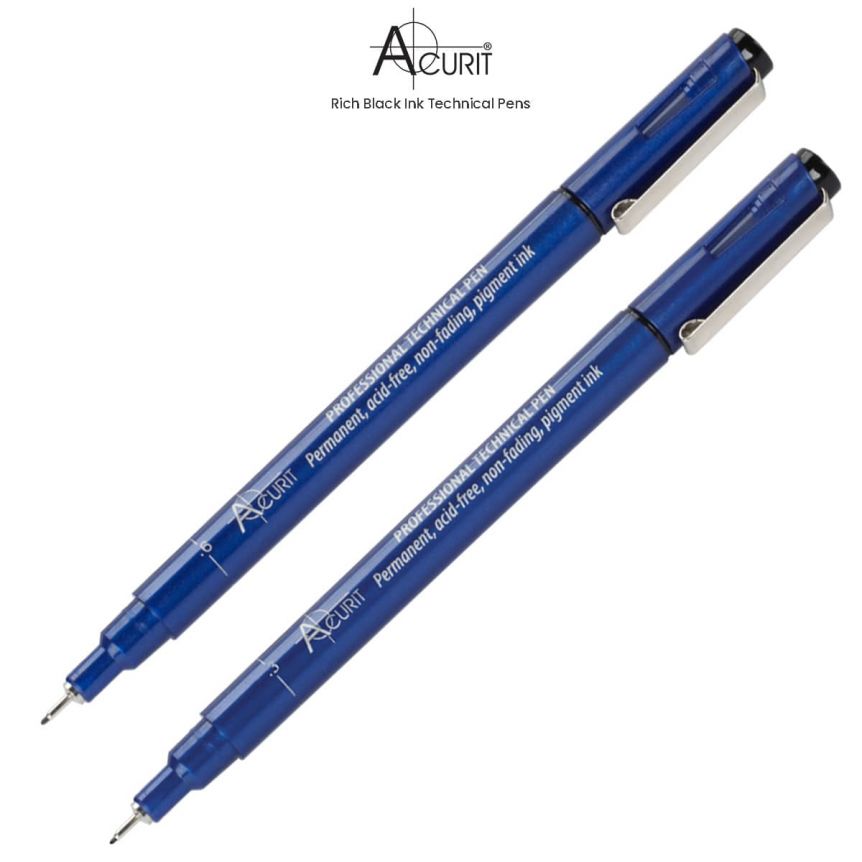 Click Tabs For More
Product Notes:
Is Proprietary

Exclusively At Jerry's! A Jerry's Artarama exclusive brand. The exclusive brands offer amazing quality, exceptional performance & great value. Comes with a 30 day money back guarantee!

LPP

Lowest Price - This item is already at the Best Lowest Price Possible and no further discounts or coupons can be applied.
Grid
Grid View
List
List View
x