Fluid & High Flow Acrylics Now 40% Off
+ Free Berlin Brush Offer
Golden Fluid Acrylics
---
Now Up To 40% Off List
Available in 4oz, 8oz, 16oz, 32oz, and Gallon Sizes
Starting at:
$11.03
list starting: $18.39
Golden High Flow Acrylics
---
Now Up To 40% Off List
Available in 1oz, 4oz, 16oz, and Gallon Sizes
Starting at:
$4.67
list starting: $7.79
Golden Fluid & High Flow Acrylics Week
+ FREE BRUSH WITH PURCHASE
Offer ends 1/15/2023 or while supplies last*
Get the best brush line for any acrylics! Synthetic hair that holds color & performs with the control and precision of natural hair

Acrylic Brush Long Handle Filbert #12
Free with any open stock GOLDEN Fluid Acrylic and/or High Flow Acrylic purchase this week of $75 or more*
Handmade in Germany
Interlocked bristles
Bounce back memory effect with great shape and resistance
A blend of four different filament diameters
Synthetic filament hair
Holds color & performs with the control & precision of natural hair
Closely parallels real hair in texture & shape
Long handles
Nickel-plated silver ferrules
Wood from sustainable forestry used
Handle dipped in a high-grade varnish four times


GOLDEN Fluid Acrylics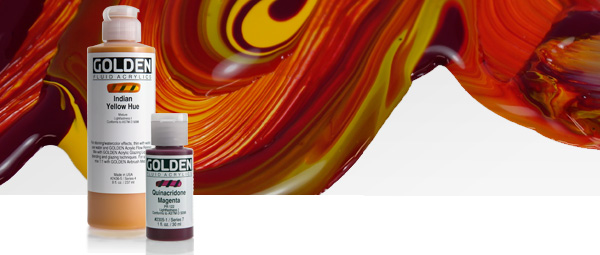 GOLDEN Fluid Acrylics have equal the intensity of GOLDEN Heavy Body Acrylics but with an even, flowing characteristic useful for dry brush application, fine details, pouring, spraying (particularly when mixed with GOLDEN Airbrush Medium), staining techniques and many others.
GOLDEN Fluid Acrylics have the same pigment load as the Heavy Body Acrylics, but in a viscosity similar to heavy cream. Fluids allow for smooth flowing applications while retaining color intensity, tinting strength, film integrity, and adhesion. Fluids blend easily with all acrylic colors, and readily tint gels, mediums, gessoes and grounds. Fluid Acrylics are extremely versatile, and ideal for fine brushwork, glazing, staining, water media techniques and many more. Mix Fluid Acrylics with Airbrush Medium for airbrush application of artwork including textiles.
Smooth flowing applications
Permanent and lightfast colors
Extremely versatile
High tinting strength
Low-viscosity, pigment-saturated paint
Retain excellent flexibility when dry
High pigment levels suspended in an acrylic polymer vehicle
Highly Intense, Smooth-Flowing Permanent Acrylic
---
Available in 4oz, 8oz, 16oz, 32oz, and Gallon Sizes

GOLDEN High Flow Acrylics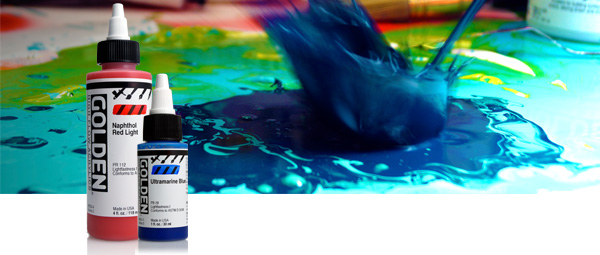 GOLDEN High Flow is acrylic paint that can go from brush to marker or from dip pen to airbrush and more. From fine lines to broad strokes, High Flow Acrylic has an ink-like consistency that lends itself to a wide range of techniques, including staining, leveling, calligraphy, and mixed media.
Introduced as a replacement for GOLDEN Airbrush Colors in July of 2013, High Flow offers increased durability of dry paint and a larger palette of colors including Iridescent and Fluorescent colors, and more single-pigment colors that match the other GOLDEN color lines.
37 NEW colors deliver even more breadth and versatility to artists.
Now with 85 colors – High Flow becomes the largest range of ink-like, professional acrylics available. GOLDEN has added new colors to their top selling High Flow fluorescent and iridescent color range and introduced convenient light value tints that have become extremely popular in other color lines. Already one of the most versatile paints offered, this expanded palette will help more artists than ever find a use for these ultra-low viscosity acrylic paints in their studio.
Super-fluid, high intensity acrylic paint
Superior pigment load & light fastness
85 colors including iridescent & fluorescents
All compatible with GOLDEN acrylics & mediums
Can be used in refillable paint markers, technical pens, and airbrushes
High Flow acrylics work beautifully on almost any surface
High-Fluidity, Ink-Like Acrylic Colors Perfect For Airbrush, Illustration, Mixed Media And More!
---
Available in 1oz, 4oz, 16oz, and Gallon Sizes
*Special Offer Details
Sale Ends 1/15/23
---
Limited Time FREE OFFER
Buy $75+ of Golden Fluid Acrylics and/or Golden High Flow Acrylics and receive a Berlin Acrylic Long Handle Filbert #12 Brush, FREE! Open stock only, excludes sets. Free item ships automatically w/ qualifying order (will not show in cart). Free item is limited to 1 per customer. Limited quantities available. Only while supplies last. Offer officially ends on Sunday January 15, 2023.
This Special Offer expires 11:59 PM PST on 1/15/23. Offer is not retroactive for past orders and cannot be combined with any other offers. Offer is only redeemable on the Jerry's web site and cannot be redeemed at our retail stores. Any items that are excluded from coupon discounts will be clearly indicated on the shopping cart screen before checkout. See product pages for current details and prices. Jerry's Artarama assumes no liability for grammatical or graphical errors.
Free Shipping Terms
Merchandise orders totaling $75 or more qualify for free shipping.
Gift cards, taxes, and shipping fees do not count toward qualifying total to meet free shipping requirement.
Free Shipping does not apply to items delivered by truck.
Orders shipped outside the contiguous 48 states (Alaska, Hawaii, and International orders) are excluded from Free Shipping offer.
See our complete shipping policy for more information.