Jerry's Artarama Online Has A New Look And Feel
Start here to learn about new features and how to navigate the new site
Don't Forget to Log In! Your Username and Password are the Same!
If it's your first time visiting jerrysartarama.com since the new launch, don't forget to log in! Your password and email will be the same, but you will not be automatically logged in and your browser may not autofill this information (If using a password manager this does not apply).
As part of our updates to JerrysArtarama.com:
ALL users will be automatically logged out and will need to log in again to the new website.
Your username and password will be the same as you have been using to log in to your account.
Log in using the Account tab on desktop and mobile (see "How To Log In" to the right.)
My Account – new features and updates. All information you previously had stored and saved will be available once you log in with the same email address.
If you have trouble logging in, please use the "Forgot Your Password" button, enter the email address of your account, and we'll send you a link to reset it.
Log In is located at the top right of the website while hovering over the account tab. If it's been a while and your password has been forgotten, please use the "forgot your password?" button and follow instructions to reset your password.
(Stay logged in for the best experience on desktop and mobile)
To get the most of the updated jerrysartarama.com we suggest logging in to get access to all the new features, recenlty viewed items, favorites list to easily shop from and to save time at checkout with all of your details pre-filled in (from my account section).
New Features With Your Account
When logged in we've added some new features to your account! Easily access information such as, your favorites, newsletter subscriptions, invitations, back in stock notifications, quick order favorites list to easily shop from and more.
Best to save your checkout info to use our "Express" Checkout Feature
Teachers Carts/Supply Lists: If you see a red exclamation mark next to any of these options, something in these lists have either changed or needs attention.
Product Pages Have a New Layout
No more cycling through tabs! View and enlarge product photos, find product descriptions, videos, reviews and specifications all on the same page. Click to expand the dropdown lists in the product overview section to access this information.
Here you will also see the option to add to your favorites list. Just click the heart icon underneath related items and access them quickly from the top of the website where a Heart appears next to the search box! Pick up where you left off to shop your favorite items
LIST VIEW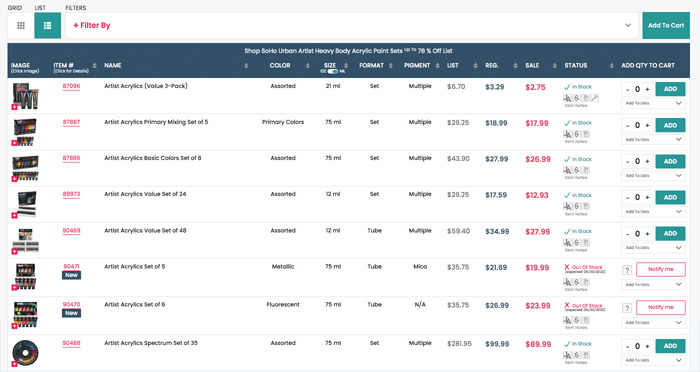 GRID VIEW
New Features in the Product Tables
In the product table below overview you will now see the option to toggle between list or grid view.
+ Filter By Beside that you will see the filter option at the top of product tables with alot of items. You can now filter by color, size, box qty, tube, set and/or format to help ease your shopping experience and quickly find what you're looking for. Works great on Both Mobile and Desktop!

Other additions include the option to toggle size measurement between milliliters and ounces on items like paints. Below the add to cart button you can also add that product to a favorites list or a teachers cart.

You will also notice the item/SKU numbers are now clickable. Click on that or enlarge the product image to see descriptions, images, more info and videos for specific items and further information related to individual products.
Checkout
Checkout will feel fairly similar from before, but like the new product pages, you will be able to stay on a single page to fill out required information.
All information you chose to save on your account before the site update will carry over. If you're logged in and have shipping and card information saved, you will still be able to easily and quickly checkout in the steps to checkout.