2017 Ultimate Watercolor Road Trip Fine Art Contest
Enter your watercolor artwork for a chance to win! (see theme below)
Enter by June 11, 2017
About Fine Art Contest
Fine Art Contest Details
Every artist feels like getting away from it all sometimes! Being the visual people that we are, we pack supplies along to work on something relaxing, even capture highlights from our trip. Documenting a vacation by keeping an artist's journal is the perfect way to enjoy the trip and focus on landmarks, vistas, and experiences, or even plein air paint along the way...
Most of us artists are bad about bringing the entire kitchen sink when it comes to packing supplies for our journey. Once we get there, then it's the debate on what to use, which wastes valuable working time— then trying to find space to lay everything out to work, and finding you don't even use HALF of what you have carted along...
Watercolor is the ultimate way to pack lightly no matter where your dream trip takes you, and still give you a full range of colors to work with… Watercolor paper, a set of watercolor pans, a brush or two, pencil for sketching, and water are all that's needed! Even a backpacking hiker has room for that on the trail...
What To Submit & What To Paint! The Themes of Inspiration
Create & submit your watercolor artwork based on 1 or all of the below ideas/themes:
Where have you been?
Where do you dream of going?
What inspiring scenes have you found just traveling to your destination?
To Enter The Fine Art Contest
Each contestant may enter 2 pieces of artwork, created in 2017, using any combination of watercolor products from Jerry's listed above. Work must be original and not previously used by Jerry's Artarama for any marketing materials. Jerry's reserves the right to disqualify entries that do not abide by stated rules. Entry in this contest establishes an agreement on the part of the artist to all rules and conditions outlined in the official rules and entry form, and is a contract permitting Jerry's to exhibit entries selected by the judging committee. Substitutions for entries sold or otherwise committed before acceptance are not allowed.
Contestants must be logged into their Jerry's account or create a Jerry's account to enter contest. The contests are availble to enter in My Account under My Contests - Enter/Account. Questions? See the How to Enter Contests Guide.
Dates
Entry Dates - 05/05/17 - 06/11/17
Judging: 06/12/17 - 06/15/17
Winners Announced - 06/16/17
Contest Prizes:
Over $600 in prizes!
1st Place: $200 Jerry's eGift Card + Turner Professional Watercolor set of 18 (5ml tubes (V19240 - $164 Value)
2nd Place: $100 Jerry's eGift Card + Turner Professional Watercolor Spring Set of 4 (15ml tubes (V17453A - $53 Value)
3rd Place: $50 eGift Card
5 Honorable Mentions receive a $10 Jerry's eGift Card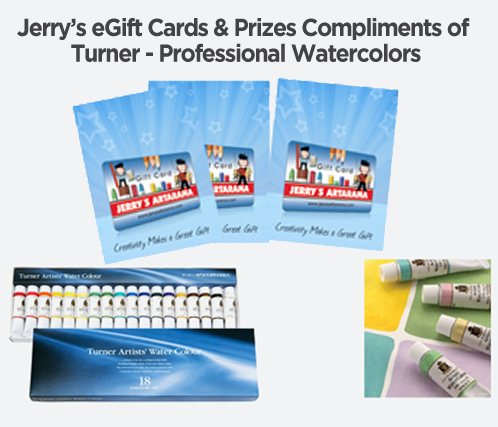 Sponsored By:
Need Inspiration?
We provided some thoughts of where we would like to be right now creating art. Some of us have been to one of the places but all of us would love to go! Maybe you have been to one of these places and created your watercolor work of art? Submit your watercolor art on where you have been, where you are dreaming to go and what inspiring scenes you may encountered or found along your travels that inspired your work.