High Flow Acrylics
30% Off List
Available in 1oz, 4oz, 16oz and 128oz Bottles
Starting at
$4.82
list: $6.89
SHOP NOW
Golden High Flow Acrylics Week

FREE WITH PURCHASE
Offer ends 2/21/2021 or while supplies last*

Get the best brush line for any acrylics! Synthetic hair that holds color & performs with the control and precision of natural hair

Acrylic Brush Long Handle Filbert #6
Free with Golden High Flow Acrylics open stock purchases this week of $75 or more*
LEARN MORE
Handmade in Germany
Interlocked bristles
Bounce back memory effect with great shape and resistance
A blend of four different filament diameters
Synthetic filament hair
Holds color & performs with the control & precision of natural hair
Closely parallels real hair in texture & shape
Long handles
Nickel-plated silver ferrules
Wood from sustainable forestry used
Handle dipped in a high-grade varnish four times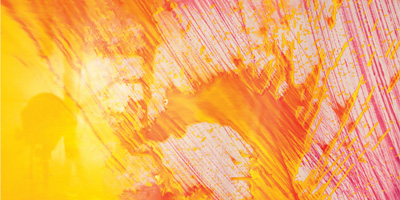 GOLDEN High Flow is acrylic paint that can go from brush to marker or from dip pen to airbrush and more. From fine lines to broad strokes, High Flow Acrylic has an ink-like consistency that lends itself to a wide range of techniques, including staining, leveling, calligraphy, and mixed media.
Introduced as a replacement for GOLDEN Airbrush Colors in July of 2013, High Flow offers increased durability of dry paint and a larger palette of colors including Iridescent and Fluorescent colors, and more single-pigment colors that match the other GOLDEN color lines. For health and safety information.
SHOP GOLDEN High Flow Acrylics + BERLIN BRUSH
High-Fluidity, Ink-Like Acrylic Colors Perfect For Airbrush, Illustration, Mixed Media And More!
Available in 1oz, 4oz, 16oz and 128oz Bottles
MORE INFORMATION
A set of 49 colors, including Fluorescent and Iridescent Colors made with the same ingredients of other GOLDEN Artist Colors paint lines
Formulated with 100% acrylic polymer dispersion, resulting in a durable paint layer with excellent water and chemical resistance
Made with finely ground pigments to reduce clogging issues in small tips and nozzles
Additives such as flow improvers, film levelers and retarders create a very thin and free-flowing paint
Application use ranges from fine line-work to large passages on a variety of surfaces, such as paper, canvas, panel and other artist support
*Special Offer Details
*Limited Time FREE OFFER
Buy $75+ of Golden Fluid Acrylics open stock and receive a Berlin Acrylic Long Handle Filbert #6 Brush, FREE! Free item is limited to 1 per customer. Limited quantities available. Only while supplies last. Offer officially ends on Friday February 21, 2021.

This Special Offer expires at 11:59 (ET) on 2/21/21 Offer is not retroactive for past orders and cannot be combined with any other offers. Offer is only redeemable on the Jerry's web site and cannot be redeemed at our retail stores. Any Items that are excluded from coupon discounts will be clearly indicated on the shopping cart screen before checkout. Free Shipping Offer applies to standard shipping to the contiguous 48 US States only. Alaska, Hawaii, and International orders are excluded from the Free Shipping offer. Read our full shipping policy for more information. All orders $45 or more receive FREE Standard Shipping to the contiguous 48 states. Orders are shipped according to best available rate and transit time as determined by our computers based on package weight and destination. We use UPS as our primary standard service carrier, but packages may also ship via USPS. Excludes oversize, large and LTL items. See shipping details for further information.
Jerry's Artarama assumes no liability for grammatical or graphical errors.