New To JerrysArtarama.com?
Sign up now for our Exclusive email club and as a new subscriber, we will instantly send you a special offer to use today!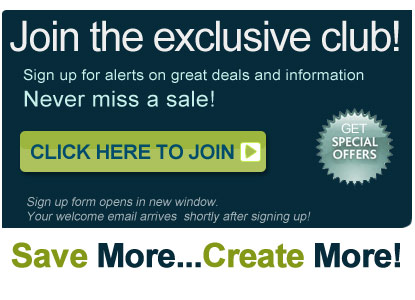 Here's what you can expect to find in your inbox!
Weekly Email Exclusive promotions
Weekend Super Sales featuring extra savings
Free Shipping offers
Special Promotions and Rebates
Seasonal Sale Information
Specials on your birthday
More ideas to spark your imagination!
Don't forget you can unsubscribe from Jerry's Artarama email subscriptions at anytime from any email we send, right on this page or in your email preferences in your My Account
Special New Subscriber Offer:
Extra BONUS Coupon + Free Shipping* & FREE GIFTS!
ON YOUR NEXT ORDER TODAY of $45 or more See email for full use, exclusions and details
2 FREE Sample Paint Packs PLUS FREE GIFT: Jerry's Special Collectible Logo Wrist Watch - $29.95 Value FREE
NEW Customer/New Email Subscriber Offer
Join our "Exclusive Email Club" and receive special offers on all your favorite art supplies and materials, promotions and more direct to your inbox. Getting your hands on the best JerrysArtarama.com deals is a whole lot easier when the deals come to you.
Sign up today for an EXTRA BONUS COUPON, FREE Shipping & FREE Gifts on your next order of $45+* and full access to the best JerrysArtarama.com has to offer. The coupon will be sent to your email in a few minutes and is for a 1 time use only.
2 FREE Sample Paint Packs & FREE GIFTS: Jerry's Special Collectible Logo Wrist Watch
YOU MUST HAVE AN ACCOUNT & BE LOGGED IN TO USE THIS CODE OR IT WILL NOT WORK!
Note: To make sure you receive all JerrysArtarama.com e-mails in your inbox (not bulk or junk folders), please take a moment to add promos@jerrysartarama.com to your e-mail address book.