Winsor & Newton: The World's Finest Artists' Materials
175 years of fine art supplies — on sale now!
Chances are, if you're an artist, you're familiar with Winsor & Newton — and for good reason! This world-famous company produces some of the finest and most popular art supplies available in the industry: from paints and mediums to canvas, brushes, paper, and everything in between!
Winsor & Newton was founded in England in 1832, a collaboration between artistic-minded Henry Newton and scientific William Winsor, who combined their individual expertise to craft some of the finest colors in the form of oil paints and watercolors. Among the first companies to make use of and develop the metal paint tube, Winsor & Newton soon rose to the top in terms of popularity, and it was with their help (and portable paint tubes!) that allowed artists to get out of the studio and into the field. They even crafted fine art materials for Queen Victoria!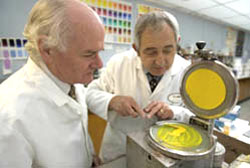 Over the next 175 years, Winsor & Newton has remained in the forefront of art materials, honing and developing both artists' and student grade colors, paintbrushes, canvases, watercolor paper, and more — all of which are among the most recognizable in the world today! High quality is the Winsor & Newton catchphrase, and you know when using their materials that you are backed by almost two centuries of tradition and innovation.
Here at Jerry's Artarama, we are thrilled to carry so many Winsor & Newton art supplies (and thrilled to used them, as well!), and to offer them to you at fantastic savings! Here are just a few examples of Winsor & Newton's extensive portfolio, try them out today!
Winton Oil Colours — up to 55% off list!

High quality student grade oil colors
Heavy pigment load
Smooth and creamy consistency
49 color range, many single-pigment
Available in 37ml and 200ml tubes
The ideal beginner's oil paint!

Artisan Water Mixable Oils — up to 50% off list!

No hazardous solvents necessary!
Clean up easily with soap and water
Mix with water or Artisan mediums
40 brilliant colors in 37ml or 200ml tubes
Short, buttery consistency
Create a safer painting environment!
Winsor and Newton Artists' Acrylics — up to 50% off list!

Superior grade artists' acrylic colors
Luxurious buttery consistency
Unique acrylic resin & top quality pigments
No color shift from wet to dry!
80 vibrant colors in 60ml or 200ml tubes
Complete line of complementary mediums

Winsor and Newton Designer's Gouache — up to 40% off list!

Finest artists' gouache since 1935
Opaque watercolors for fine art & illustration
High quality pigments with no added opacifiers
85 brilliant, opaque colors in 14ml tubes
Select colors & white in larger sizes
Perfect for multimedia applications!
…and this is just a sampling of the many paints and art supplies that Winsor & Newton offers! Check out the video below for an explanation of why Winsor & Newton craft so many of their colors with single pigments, the ideal choice for color brilliance and clear mixes:
We're sure you're familiar with all of Winsor & Newton's fantastic art materials, but if you're itching to try out a new medium, now is the time! Certain ranges are on sale until mid-October, so stock up soon, and see why Winsor & Newton supplies are the World's Finest Artists' Materials!
Comments
comments
You may also like...