Top 20 Celebrity Artists That Paint
In researching for our previous post on celebrity art investors, we came across an amazing array of celebrities who not only collect art, but create it as well! We couldn't resist dedicating a post to some of these multi-faceted artists.
Amongst celebrities, painting seems to be the preferred form of visual art, whether in Artist oil paints, acrylic paints or watercolor paints. Certainly there seem to be more celebrity painters out there than sculptors or even photographers.
What is it that is so attractive about painting that these already-acclaimed artists should feel so drawn to it?
As with all artist people, the talent and skill of celebrity painters varies from person to person. In no particular order, here are twenty of our favorite celebrity artists that paint. Judge their gifts for yourself!
Please Note: All artwork shown herein is copyright its respective artist.
Sylvester Stallone
Sylvester "Sly" Stallone has been an icon in the film world for decades, but few know that he has been painting for almost as long as he's been acting. His colorful, abstract pieces are both whimsical and imposing — perhaps not unlike the man himself?
See more of Stallone's celebrity art at his website, www.sylvesterstallone.com.
---
2. Lucy Liu
Perhaps best known for her roles in the movies Kill Bill and Charlie's Angels, as well as the TV show Elementary, actress Lucy Liu is also a very talented abstract artist. She has painted for years, under the pseudonym Yu Ling, but has recently been exhibiting her celebrity paintings at art galleries and finally claiming credit for her impressive work.
---
3. Dennis Hopper
Legendary wild man Dennis Hopper, in addition to acting in such iconic films as Easy Rider, Rebel Without a Cause, and Speed, was also a gifted painter with a unique vision. His time spent with artists like Andy Warhol also gave him an unrivaled view into the art world of the 1960's.
---
4. David Bowie
Before becoming the face of glam rock, musician David Bowie studied art and design, and has been painting ever since. His celebrity art evokes a depth and surrealism unsurprising from this avant-garde shapeshifter.
---
5. Joni Mitchell
Singer and songwriter Joni Mitchell is not only famous for her heart-wrenching voice and lyrics, but her absolutely stunning celebrity paintings as well — many of which are featured as her album covers. In fact, though she dropped out of art school at age 19, Mitchell has always considered herself a painter first and a musician second.
See more of Mitchell's celebrity art at her site, www.jonimitchell.com.
---
6. Jim Carrey
Always recognized for his comedy, as well as more dramatic roles such as in Eternal Sunshine of the Spotless Mind, actor Jim Carrey is also an accomplished artist. Last year, he had a solo exhibition, Jim Carrey: Nothing To See Here, in Palm Springs.
See more of Carrey's celebrity paintings at his website, www.jimcarreytrulife.com.
---
7. Jane Seymour
Although a highly successful artist, people often think of Jane Seymour as the actress who starred in the show Dr. Quinn, Medicine Woman. However, beyond acting, Seymour is an avid writer, designer, and artist. Many of her paintings depict nature scenes.
---
8. Johnny Cash
Legendary musician Johnny Cash sketched and painted for years, but never thought his work would appeal to the art world. Nevertheless, his work — exemplified by this painting called Flight — was very much in demand. However, Johnny's heart was always in music, and his touring and recording schedule left little time for celebrity paintings.
---
9. Bob Dylan
Poet and songwriter Bob Dylan's painting style can be described as "freewheeling", as it were — certainly his celebrity paintings have a very impressionistic feel to them. Since 1994, Dylan has published 3 books of his Matisse-influenced artwork.
---
10. Stevie Nicks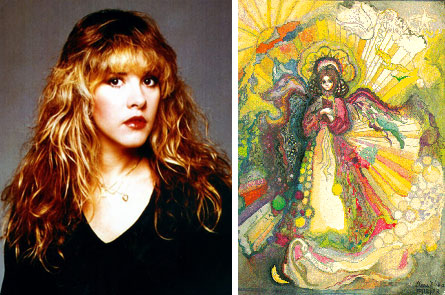 Musician Stevie Nicks was brought to the world of artist people by a dear friend ill with leukemia and dedicates her vibrant, ethereal paintings and drawings to her friend who lost her battle.
See more of Nicks' artwork at the website www.inherownwords.com.
---
11. Kurt Cobain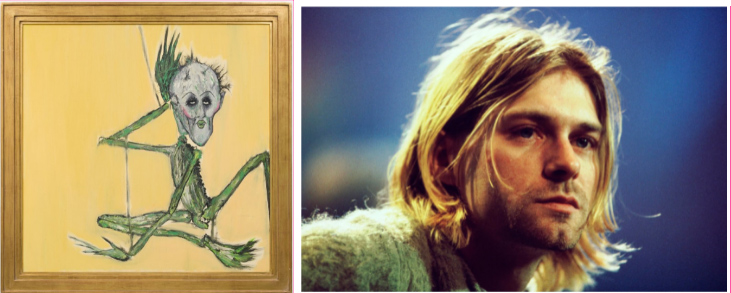 The celebrity art created by Kurt Cobain seemed to parallel the music he created. The subject matter was often dark and contained repeated symbolism. Some paintings exhibited surrealism, and almost all seemed to express a troubled artist but who are we to judge as he created some of most memorable songs!
---
12. Anthony Hopkins
Is it at all surprising that actor Anthony Hopkins is amazing at anything he puts his mind to? Once having played Pablo Picasso on-screen, Hopkins' paintings are clearly influenced by the famous artist but have a darkness and slightly disturbing feel that one would expect from the man behind Hannibal Lecter.
---
13. Viggo Mortensen
Celebrity paintings by Viggo Mortensen are usually abstract, and at times they contain fragments of his poetry within them. While he is best known for his acting, Mortensen is also a photographer. Galleries throughout the world have featured his artwork.
---
14. Janis Joplin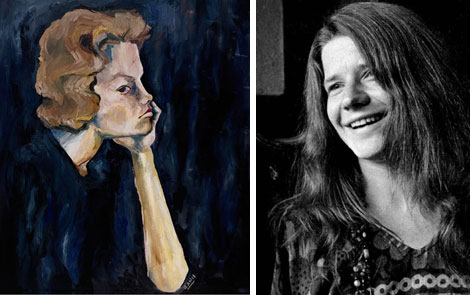 Music queen Janis Joplin tragically passed away at a young age, and left behind not only a catalog of legendary music but a portfolio of impressive paintings as well. Perhaps with more time, her paintings would have become as famous as her music.
---
15. Frank Sinatra
Even the Chairman of the Board, the leader of the Rat Pack, Frank Sinatra himself picked up a paintbrush in his day. While not a poor hand at painting, we think we prefer his dulcet singing voice.
---
16. Michael Jackson
We all know that Michael Jackson, the King of Pop, was a man of many talents and unrivaled in his time. However, few know that when he was just a child, Jackson was already an extremely gifted painter. This portrait of Charlie Chaplin — a big influence of Jackson's — was painted when the singer was only 9 years old!
---
17. Marilyn Monroe
Stunning actress Marilyn Monroe has been the subject of many artworks — most notably that by Andy Warhol — but she also dabbled in painting herself. This delicate watercolor of a rose was inscribed by Monroe to President John F. Kennedy.
---
18. Ronnie Wood
Musician Ronnie Wood of the Rolling Stones is a surprisingly talented painter in his own right, and his unique and changing style often shows viewers a "behind the scenes" look at the brilliant and bruised world of rock and roll.
---
19. Yoko Ono
Many people know icon Yoko Ono for her music, performance art and film work, but she is also a skilled painter and philanthropist. A recent auction of her puzzle pieces work went to benefit the study of autism.
---
20. Prince Charles
Surprising though it may be, even Prince Charles of the Royal House of Windsor is himself a painter. Working from many rural and village landscapes in his native Great Britain, the Prince's muted watercolors hearken back to the beginnings of the plein air movement in England.
See more of Prince Charles' artwork at the Belgravia Gallery.
---
Whew! That was a lot of celebrity artist painters — and we've only scratched the surface!
There are countless others, including Paul McCartney, Marilyn Monroe, George W. Bush, Bono of U2, John Lennon and even Beyoncé Knowles — all of whom have been known to pick up a paintbrush from time to time. Some of these paintings I wouldn't mind hanging on my wall, that's for sure.
Others?
Well to each his own, yes?
What do you think? Can you think of other celebrity painters? What's your opinion of the artist people we've shown here?
Tell us all about it in the comments below!
You may also like...