Happy Belated Birthday Gustave Courbet
Happy Belated 138th Birthday Courbet!
Self Portrait with Black Dog, 1842
Yes we know we are a bit late on this one, Gustave Courbet's birthday is actually June 10th. But let's blame the author of this blog for celebrating his own birthday. Getting back to Courbet, he was born on June 10th, 1819 in Omans, Doubs, France and was a French leader of the Realist movement in the 19th-century.
He is remarkable as an artist not only for his skill, but his staunch refusal of academic conventions and would "only paint what he could see". He was a true innovator in the field of painting and challenged the normal politics of art by painting peasants and workers on a scale reserved for religious or historical portraits and scenes. His other work involved realistic landscapes, seascapes, hunting scenes, nudes and still lifes.
He was briefly educated working at the studio of Steuben and Hesse, but left to independently study at the Louvre painting copies of Spanish, Flemish and French master paintings. And, although the Paris Salon said at the time that History Painting was "a painter's highest calling", Courbet denounced the notion saying that true art comes from the artist's experience.
Courbet even wrote a Realist Manifesto for one of his personal exhibitions with these wise words:
"The title of Realist was thrust upon me just as the title of Romantic was imposed upon the men of 1830. Titles have never given a true idea of things: if it were otherwise, the works would be unnecessary.
Without expanding on the greater or lesser accuracy of a name which nobody, I should hope, can really be expected to understand, I will limit myself to a few words of elucidation in order to cut short the misunderstandings.
I have studied the art of the ancients and the art of the moderns, avoiding any preconceived system and without prejudice. I no longer wanted to imitate the one than to copy the other; nor, furthermore, was it my intention to attain the trivial goal of "art for art's sake". No! I simply wanted to draw forth, from a complete acquaintance with tradition, the reasoned and independent consciousness of my own individuality.
To know in order to do, that was my idea. To be in a position to translate the customs, the ideas, the appearance of my time, according to my own estimation; to be not only a painter, but a man as well; in short, to create living art – this is my goal."
-Gustave Courbet, 1855 Â  Â  Â  Â  Â  Â  Â  Â  Â  Â  Â  Â  Â  Â  Â  Â  Â  Â  Â  Â  Â  Â  Â  Â  Â  Â  Â  Â  Â  Â  Â  Â  Â  Â  Â 
Courbet's art left a lasting legacy with younger painters such as Claude Monet, James McNeill Whistler, Paul Cezanne, and even Edward Hopper.
Gustave Courbet spent the later half of his life in jail and exile after his involvement of the Paris Commune and he lived out his exile in Switzerland from 1873-1877 when he died at age 58 in La Tour-de-Peliz, Switzerland.
Courbet's Art
 
Self Portrait (The Desperate Man), 1845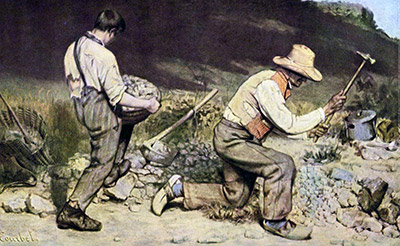 The Stone Breakers, 1849
The Trout, 1871
Fox in the Snow, 1860
The Grain Sifters, 1854
The Castle of Chillon, 1874
The Wave, 1870
---
Which Courbet Painting is your favorite? Let us know in the comments below!
Comments
comments
You may also like...