Jerry's Artarama appreciates your interest in our Link With Us Program. With this special initiative, you post a link to Jerry's on your web site, and Jerry's will post a reciprocal link to your site in our official Partner Links Directory. Not only can this help boost traffic to your web site, but it also helps Jerry's build a directory of art-related sites all across the web, an invaluable resource for our customers.
Please note that an e-mail address alone does not qualify for the Partner Links Directory. You must submit a valid web site address or your Partner Link Request will not be considered valid. Jerry's Artarama reserves the right to reject any Partner Link Request that it deems unsuitable. To get started, simply choose the text link or image you would like to use on your site below, then copy the HTML code from the appropriate box and paste it into your web page. Once that step is complete, submit your Partner Link Request to Jerry's for approval. you will receive an email from Our Internet Marketing Manager after review.
After we have confirmed that a reciprocal link has been placed on your site and your submission has been approved, we will send you a confirmation e-mail and the link to your site will be added to our official Partner Links Directory. Please remember, the images and text links below can be used to set up a basic link to the Jerry's web site.
Preferred Use: Text Links
Art Supplies
Discount Art Supplies
Easels For Kids
Easels
Canvas
Oil Paints
Watercolors
Acrylics
Image Links:

88x31-Logo.gif, 1.6 KB


120x60-Logo.gif, 3.3 KB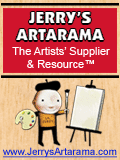 120x160-Logo.gif, 11.3 KB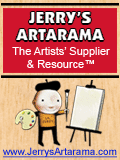 300x36-Logo.gif, 5.6 KB
468x60-WN-Alkyd-Oil.jpg, 22.0 KB
200x150-WN-Alkyd-Oil.jpg, 23.7 KB