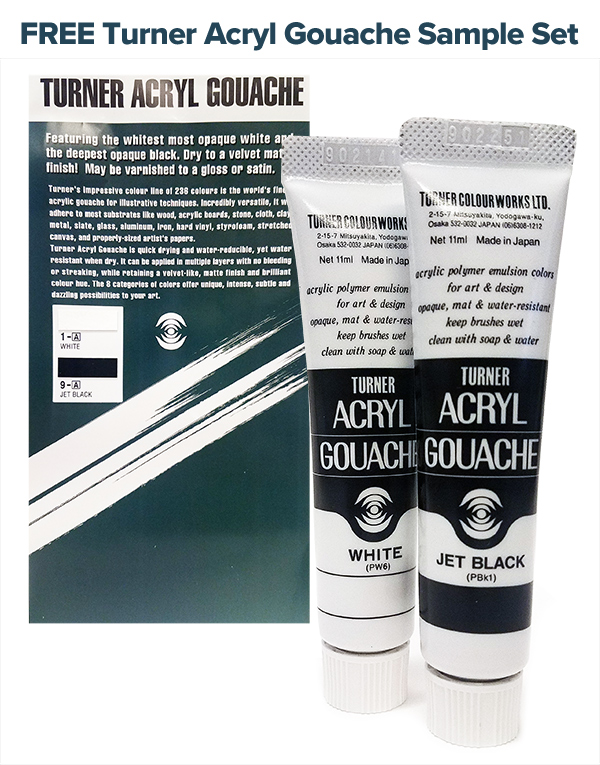 Details:
Sign up to receive your FREE Turner Acrylic Gouache Sample Set of 2. Free Sample Supplies Are Limited (only 500). Samples will be sent out Friday 10/11/19 so the viewers will receive prior to the Jerry's Live - Episode #126: Explore the Amazing Line Turner Acrylic Gouache shown live on Jerry's Facebook and YouTube pages 10/22/19 at 5:30pm EST
Known as "the windows to the soul", eyes are one of the things we look at most when interacting with others, since they portray far more about how a person feels than their words or behavior actually conveys. If we spend so much time studying them, why as artists do we find them so difficult to represent when painting? Besides getting the shape of the eye correct, getting realistic color and highlights to achieve true depth and convey form can be quite a struggle. Using the rich, velvety matteness of Turner Acryl Gouache's Smart Set of 12 (that comes with color mixing cards), Amy will walk us step by step though painting a closeup of an eye, giving us insightful techniques for practical application. Before the show's completion, we will showcase work done with some of the wonderfully unique lines in this 236 color brand.
Share This NOW
Special Turner Acryl Gouache Episode Offer!
$24.99 + SHIPS FREE (#V17678)
Acryl Gouache Smart Set of 12
40% off Regular Price
Was: $41.99
Item# V17678 Now Only:
$24.99 + SHIPS FREE

Make 120 Colors from 12 Colors - This Turner Acryl Gouache Smart Set contains the following items:
21 Piece Set in Total:
2 Includes 11, 11 ml tubes of color,
2 2, 20ml Tubes of white,
2centering ruler,
2120 color mixing guide,
24 superior artists brushes,
2palette cleaner
2palette buffing cloth