Arts, Crafts & Cooking for Kids this Holiday w/ The Home Art Studio
15 New Arts and Crafts Projects with Holiday Themes!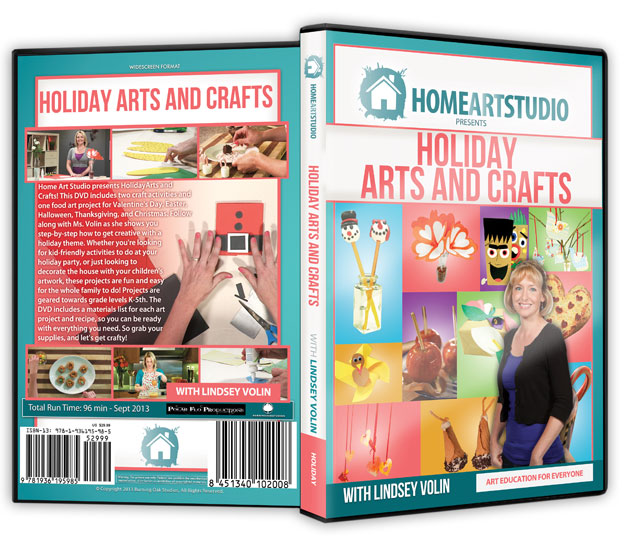 If you are having trouble finding new arts and crafts projects for your children to work on whether they are out of school for the holidays or just want to get festive before the holidays, then look no further. Jerry's has the resource for you. Jerry's Artarama and the Home Art Studio present the new Holiday Arts and Crafts DVD with Lindsey Volin!
---
With 96 minutes of beginner level arts and crafts projects, children at grade school ages will be entertained with projects themed around Valentines Day, Easter, Halloween, Thanksgiving and Christmas! Each Holiday gets two fun and exciting themed arts and crafts projects as well as something new this year….
Thats right, Cooking and Baking projects!
Now for each Holiday, Ms. Volin will guide children through fun baking projects such as heart shaped pizzas for Valentines Day and Marshmallow Dippers for Christmas. She'll also include fun arts and crafts projects like Monster Treat Bags for Halloween and Turkey Pinwheels at Thanksgiving.
It makes the perfect gift this holiday season. The DVD includes a materials list for each art project and recipe so you can be ready with everything you need. Ms. Volin will show you step-by-step how to get creative with each holiday theme.
The DVD includes:
5 Holidays (Valentines, Easter, Halloween, Thanksgiving and Christmas)
10 Crafts Projects (2 for each Holiday)
5 Food Projects (1 for each Holiday)
Supply lists and recipes
---
In this wonderful DVD from the Home Art Studio, you're guaranteed a good time working on projects such as Hanging Heart Suncatchers, Haunted Caramel Apples, Corn Wreaths, Turkey Pinwheels, Snowman Pencil Toppers, Elf Silverware holders and much, much more. Be sure to pick up your copy today only and get your children in the holiday spirit while becoming creative and inspired by the visual arts!
So grab your DVD, supplies and lets get Crafty! For only $25 you can have all the family fun creating holiday arts and crafts! Make some memories!
Comments
comments
You may also like...