Presidents That Paint
George W. Bush isn't the Only Painter who Ran our Country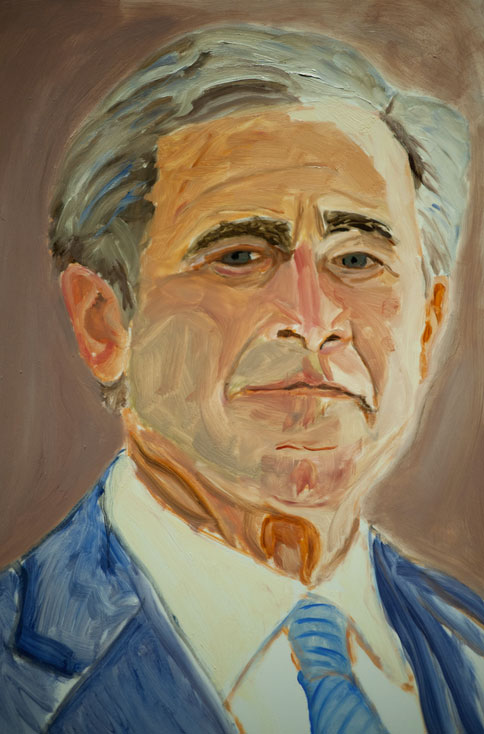 Recently it's come out that  Former President George W. Bush has spent his last two years painting and is now displaying his portraits and paintings at the George W. Bush Presidential Center in Texas. After some mixed reviews, general consensus is that he's actually pretty good for an amateur oil painter and portraitist. 
It was recently discovered that he was a painter after a family member's email was hacked and two self portraits were found of the President himself. Now that the news is out, many of Bush's pieces are now on display with self portraits, portraits of Tony Blair of Britain, King Abdullah of Saudi Arabia, Angela Merkel of Germany, President Hamid Karzai of Afganistan, George H.W. Bush, and even the President's dog, Barney.
However, Bush is not the only president to have a hobby. As we know, Bill Clinton played the tenor saxophone, Thomas Jefferson was a writer, wine maker and industrial designer and Teddy Roosevelt was a famous hunter, but did you know that there were other presidential painters?
Here are a few Presidents That Paint:
George W. Bush
(Bush Paintings, Image Source:NY Times/ Gawker)
Dwight D. Eisenhower
Dwight D. Eisenhower began painting to relieve stress during his time as president, not of the United States, but of Columbia University. He unfortunately never took his art as a serious matter, but his art did gain some national attention. Eisenhower himself however said of his artwork that "They would have burned this **** a long time ago if I weren't the President of the United States."
(Portraits of George Washington, Waterfall, Image Source: Dwight D. Eisenhower Library)
Ulysses S. Grant
Ulysses S. Grant was a more serious watercolor painter and quite accomplished. Very detail oriented, he honed his skills painting and drawing at West Point. He took pride in not only being able to command armies but also to create art!
(Grant Paintings, Image Source:www.granthomepage.com)
Jimmy Carter
Specializing in naturalistic scenery and animals, Jimmy Carter was also quite an artist. Carter not only painted but also partook in woodworking, selling items like handmade stools and auctioning his paintings for charity. In 2012, Jimmy Carter sold an original painting at auction for a steep price of $250,000!
(Carter Painting, Image Source: www.cartercenter.org)
How do you think these POTUS Painters hold up? Which is your favorite? Let us know in the comments below!
Comments
comments
You may also like...