Maryland Institute College of Art – #8 Art Schools in Jerry's Top 10
#8 Maryland Institute College of Art
Jerry's Artarama has always supported art education and so this year we wanted to show our support of some of the finest in higher art education available in the United States by honoring some of the best schools in our list of the 10 Best Art Schools in the Country.
Coming in at number 8 in our Top 10 list is the Maryland Institute College of Art.

The Maryland Institute College of Art or MICA ranks out at number 8 on our list because of the well-equipped campus, inventive curriculum and illustrious faculty. They are constantly ranked in the top 10 Masters of Fine Art programs in visual arts and U.S. News ranked them as #3 in Graphic Design and #5 in Painting/Drawing. Located in the heart of Baltimore, this private art and design college is the oldest continuously degree-granting college of art in the nation.
The school offers pre-college, bachelors of fine art, continuing studies, post-baccalaureate programs and even young people's studio art classes on the weekend. MICA has over 1800 undergraduates, over 300 over grad students and even offers classes to high school students and children. It is an art mecca for the Baltimore and Washington DC area with over 1000 exhibitions by students, faculty and professional artists from around the world.
The Breakdown
Professors- There is a 10/1 student-faculty ratio and professors have been awarded EVERY national prize offered to artists- Fullbright, Louis Comfort Tiffany, Prix de Rome, Anonymous was a Woman and the Joan Mitchell Grant.
Notable Alumnus- Noted American Sculptor William Henry Rinehart, alumni and former MICA president Hans Schuler, abstract painter Elaine Hamilton-O'Neal, pioneering sculptor Jeff Koons and creator of innovative instruments Ned Steinberger.
Local flavor- For artists, Baltimore has over 1000 galleries, all night diners, avant-garde theaters and film festivals. The school itself has many visiting artists and speakers.
Currently on Display- Be sure to check out MICA's M.F.A. Curatorial Practice class of 2015's LOCALLY SOURCED exhibition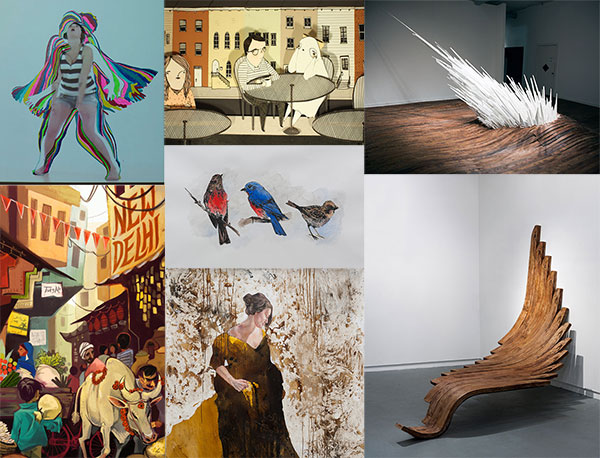 Click here to see more art -> Maryland Institute College of Art student artwork.
For More Information on the Maryland Institute College of Art, visit Mica.edu.
---
You may also like...