Artist Spotlight: Cristina Zinnia Galliher
Great Adventures in Online Learning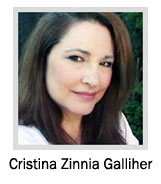 Cristina Zinnia Galliher is a mixed media artist living life with a passion for art. Her creative sense of adventure and her zeal for sharing the transformative power of art with others inspired her to create her online art community, RosesOnMyTable.com. Known to her art friends as Zinnia, she teaches others how to create variations of mixed media art for all levels through her online workshops and classes. For over 25 years she has explored many different art genres, including jewelry making, drawing, and mixed media collage. Her bottle art work and art shrines have been published, her work has sold nationally for many years, and more recently her teaching encompasses many years of practice and experience.
Zinnia's earliest childhood memories of the great statues and paintings in the Sistine Chapel impressed her imagination with unforgettable imagery. Grand statues and inspiring paintings by master artists like da Vinci, Michelangelo and Botticelli, which she saw in museums during family trips to Italy, sparked a connection that has remained with her even today. The storytelling and language of art exceeded words in a way that opened a window to a whole new world for her. Influenced by what she saw, art became her greatest passion. In her adult years, she developed her artistic skills through schooling and years of self-teaching. Today, Zinnia is eager to share her artistic voice with others.

Zinnia's workshops, like the art she creates, are always about exploration and feeling, and what better place to share her artistic adventures with others than through online video classes? When Zinnia is asked how she has created her busy and thriving online art community, Roses On My Table, her answer is immediate: "Doing what you love to do is akin to what Alice must have experienced when she went 'down the rabbit hole' for an adventure in Wonderland. There is so much to do and explore in the world of art. Once you see what you can accomplish, there is just no turning back."
Online teaching has made it possible for Zinnia to share her enthusiasm for learning new techniques and exploring various mediums and genres. Like Alice Through the Looking Glass, she has stepped into her own creative world, encouraging others to follow her on her artistic journey while forging new friendships, community, networking, and learning. But online learning is not only about fun, it is also about commitment and determination.
Roses On My Table offers online video workshops, and a supportive environment to dabble, test, share, learn, and exchange artistic ideas. "Roses' members are about having fun," she says, "but they are equally adamant about learning and practicing new techniques and becoming acquainted with new products. For those who are serious about improving their skill and knowledge, Roses is serious about offering it."
"Members quickly discover that in order to express themselves creatively and to learn new techniques and applications, one must make time to create, without any more excuses. Turn on your computer or laptop, roll up your sleeves, take out some paper and paint, because with the help of technology, time is no longer an issue, and distance is no longer an obstacle. We have all the space you need at Roses, and more!" says Zinnia.
Sharing her vision with other artists has expanded into a global online community called ArtfulGathering.com. Artful Gathering is Zinnia's annual online summertime art retreat where attendees are welcomed into the world of diverse learning experiences. Each summer she offers attendees the opportunity to take premiere online video art workshops with amazing artists from all over the world. Zinnia enjoys sharing her message as attendees save both time and money by participating with their teachers online: "Watching and learning, students and attendees have the opportunity to look over our shoulders as we work, without ever having to leave their home. All in one place at one time, for one summer, with amazing working artists."
Attendees can log in to their online classroom and experience the excitement of participating in a workshop with internationally known artists like Keith Lo Bue. Keith is a renowned jeweler and a sculptor, and has work in many major collections, including the Smithsonian Institution in Washington, DC. At Artful Gathering, Keith shares his skills and mastery with his students right from his very own home studio in Sydney, Australia.
Mixed Media artist Pam Carriker, whose articles and work have been published widely and who has recently published a book, Art at the Speed of Life, has presented many live workshops with hundreds of students. Pam presents her artistic style and techniques to her students' computers at Artful Gathering 2012.
Zinnia brings art education to a whole new level, where people can connect and also participate in hands-on learning. Today, attendees, students, enthusiasts and artists no longer need to travel far to learn and interact with their favorite art instructors. A wonderland of knowledge, trade secrets, inspiration and community are just a mouse click away.
For more information, visit http://RosesOnMyTable.com
Comments
comments
You may also like...