How To Mount Canvas Onto Ampersand Boards
Art Project: Learn how to mount canvas, paper, and other flexible supports onto Ampersand boards!
Do you love the texture of canvas or paper, but prefer the stability of painting on board?  You can get the best of both worlds by following along with Ampersand's Andrea Pramuk as she outlines an easy and archival method of mounting flexible supports onto Ampersand Hardbord, Gessobord, or Claybord.
Mount your favorite linen for oil painting, 100% rag paper for watercolors, or shake it up a bit and try out decorative papers and fabrics for fun mixed media effects.  The possibilities are endless, and you can find everything you need to complete this project right at Jerry's Artarama!
Project Supplies:
Ampersand Hardbord, Gessobord, or Claybord
Primed or unprimed cotton or linen artist canvas rolls
Watercolor , printmaking or decorative art paper (optional)
2″ wide Creative Mark primer brush
Golden Soft Gel Gloss Medium or Lineco Neutral pH Adhesive
Golden GAC 100 to seal Hardbord (if necessary)
X-Acto knife
Speedball rubber brayer or plastic squeegee
Damp cloth for clean up
Heavy weights or water jugs for pressing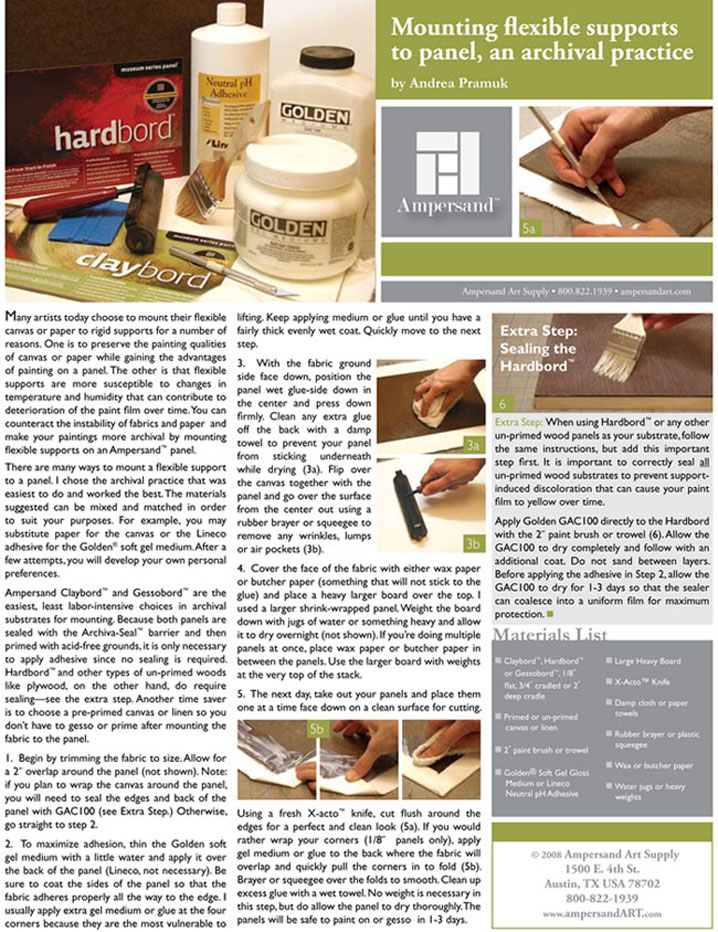 Ampersand Aquabord Panels  – If you just can't wait to paint, or don't feel like mounting paper, Aquabord is the ideal surface for watercolors, gouache, inks, light acrylic washes, and more.  The toothy, absorbent clay surface is highly receptive and best of all, requires no framing when finished!
So stock up on boards and have fun painting! Feel free to post your own Ampersand board tips and techniques in the comments below.
Comments
comments
You may also like...