America's 10 Best Art Museums
Top 10 Art Museums in the Country
As this week celebrates America's 238th year of Independence, we at the blog squad thought that we would take some time out to celebrate all that is red, white and blue. So today, to kick things off, we at The Splatter from Jerry's Artarama voted on our favorite travel destinations and are excited to list out the premier places to see America's finest art collections and assorted pieces from across the country.
10. San Francisco Museum of Modern Art
The San Francisco Museum of Modern Art in San Francisco, California is home to many famous modern and contemporary pieces and collections. It is well known as the first museum on the west coast exclusively devoted to art completed in the 20th Century.
Highlights: Rothko No 14, several Andy Warhol pieces, Femme au Chapeau by Henri Matisse, Frieda and Diego Rivera by Frida Kahlo
9. Museum of Fine Arts, Boston
The Museum of Fine Arts located in Boston, Massachusetts is known for being one of the largest collections of art in the U.S. It contains over 450k pieces of art and has more than one million visitors every year.
Highlights: The Fog and Warning by Winslow Homer, Pieces by Edouard Manet, Edgar Degas, Pierre-Auguste Renoir, Paul Cezanne, Claude Monet and Vincent Van Gogh
8. The J.Paul Getty Museum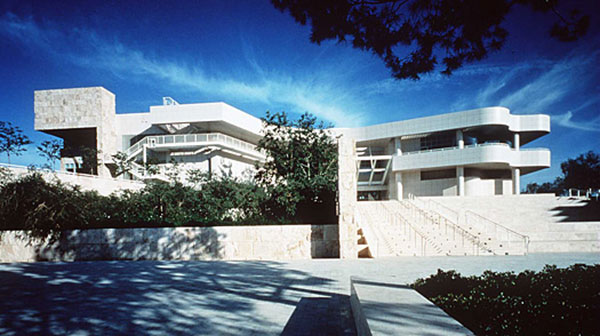 This museum located in Los Angeles, California features two separate locations including the Getty Center(Brentwood) which houses a collection of famous and notable pre-20th Century European Paintings, sculpture and 19th and 20th century photographs from America and Europe. The Getty Villa(Pacific Palisades) displays a collection of antiquities.
Highlights: Irises by Vincent Van Gogh, The Supper at Emmaus by Caravaggio and collections by Rembrandt, Poussin, Manet, Monet and Renoir
7. Art Institute of Chicago
Features a large collection of Impressionist and Post-Impressionist Art, located in Grant Park, Chicago Illinois. Also contains one of America's largest collections of African-American Art.
Highlights: The iconic American Gothic by Grant Wood as well as a large collection of paintings from Monet, Manet, Renoir, Cassatt and Cezanne.
6. de Young Museum
This museum of fine arts located in San Francisco, California. It contains a large collection of American Art from the 17th-21st Centuries, specializing in Californian art.
Highlights: Three Machines by Wayne Thiebaud, California Spring by Albert Bierstadt and a giant collection of international textiles and costumes
5. The Solomon R. Guggenheim Museum
Located in New York City, this museum was designed by Frank Loyd Wright and is known for a packed yearly schedule of fantastic temporary exhibits and a "pay what you wish" admission fee
Highlights: Paris Through the Window by Marc Chagall, Robert Mapplethorpe's photography collection, and a collection of works by Vasily Kandinsky
4. The Museum of Modern Art
Another New York City museum located in Midtown Manhattan. Often called the MoMA, this museum has a vast collection of modernist art and an outdoor sculpture garden with works from Picasso and has lectures, film screenings and classes open to the public.
Highlights: Starry Night by Vincent Van Gogh, Number 31 by Jackson Pollock and Andy Warhol's Campbells Soup Cans
3.The National Gallery of Art
Housed in the National Mall in Washington, DC, this museum is havled into two buildings with the West Building containing a large collection of American and European Art while the East Building's collection includes a more modern art as well as special exhibition spaces. It is the only place in America to see an original Leonardo da Vinci.
Highlights: Portrait of Ginerva de' Benci by Leonardo da Vinci, self-portraits by Rembrandt and Van Gogh as well as pieces from Titian, Vermeer, Manet, Monet, Cezanne, Matisse and Picasso
2. The Metropolitan Museum of Art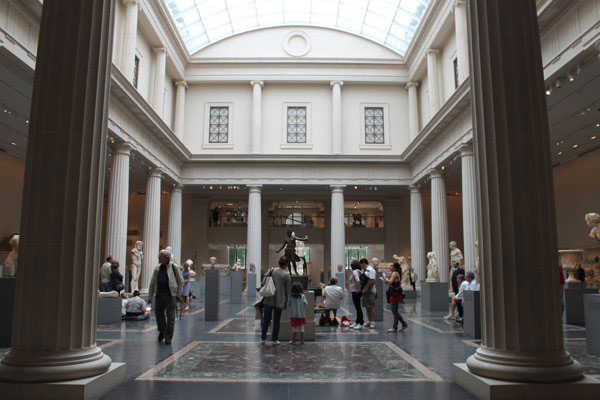 This Museum is the largest in the United States. Right on the edge of Central Park in New York City, this museum features a permanent collection of over two million pieces of art. Get ready to spend the whole day seeing giant collections of art from Europe, the middle east, Asia and Africa as well as the Costume Institute full of fashions from around the world through the centuries.
Highlights: The Great Wave of Kanagawa, an original Egyptian temple preserved from 15BC and works by Vermmer, Rembrandt, Van Gogh, Renoir and Monet
1. The Smithsonian American Art Museum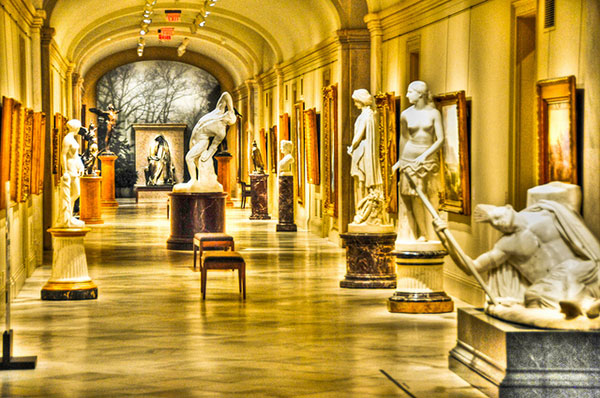 You shouldn't be surprised that the largest collection of American Art is located in Washington, DC and features art from the Colonial era to contemporary times. It has a large collection of contemporary crafts and the largest collection of Folk Art and New Deal and American Impressionist paintings.
Highlights: Among the Sierra Nevada by Albert Bierstadt, Manhattan by Georgia O'Keefe and Cape Cod Morning by Edward Hopper
Did we miss any museums you love? Let us know which museums are your favorite as we continue a week celebrating America!
Comments
comments
You may also like...