Mixed Media Discoveries in Journal Exploration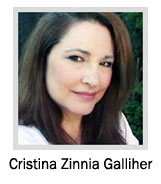 Cristina Zinnia Galliher is a mixed media artist living life with a passion for art! Known to her art friends as Zinnia, she teaches others how to create variations of mixed media art for all levels through her online workshops and classes at RosesOnMyTable.com.
Learn more about Zinnia and her work in our featured Artist Spotlight post, then read and follow along here as she outlines her method for creating beautiful mixed media art journal pages from start to finish!
Mixed Media Discoveries in Journal Exploration
by Cristina Zinnia Galliher, artist and instructor, RosesOnMyTable.com
By nature, mixed media art involves an enormous amount of experimentation, and in my search for quality art materials that are sensibly priced and which also perform well, I find myself testing new products all the time.
My art journal serves as my canvas for exploration, and for this page spread I have incorporated Turner Acryl Gouache Paints, stencils, collage paper, and my graphite drawing.
1. Since I am not working on canvas, I need to prepare my book pages. This is a great opportunity to recycle old book pages, newspaper clippings, tissue paper, and scrapbook paper.
Starting with an ordinary thin-paged journal, traditionally used for recording written thoughts, I began by bulking up the pages using regular gel medium, gesso, and paper.
2. The papers used to create this foundation consist of various textures, thicknesses, and color. Interesting patterns are formed using dress pattern tissue, old ephemera, book pages, and an antique newspaper clipping.
3. Whenever I paint layers of color on to my journal pages, I like to create noticeable contrast while balancing the interplay of the paper underneath the paint. I began my experimentation using Turner Acryl Gouache in Pearl Lilac over a glaze of other paints that I normally use. It was delightful to find that the Pearl Lilac (above) intensified the other paints when I used it as an overlay. In other areas where I applied it lightly (below), it was very lustrous and translucent.
4. Turquoise and Light Blue were used to highlight the corners and borders of the pages. The intensity of the paint is noticeable, and it "grabbed" the paper beautifully without bleeding or fading.
5. Stencil work was then applied over the dry paint layers. I used molding paste for this process. Once the paste dried, I reapplied the Turquoise paint color which also re-intensified the color under the stencil work, and around the edges of the stencil pattern.
6. To bring the peaks in the paper and the stencil work forward (above), I've applied Turner Acry Gouache in Pastel Sand and then Deep Gold colors.
The body of Turner Acryl Gouache paint is fantastic for picking up the peaks and the highlights of the textures, and because the paint is so versatile and adaptable to the techniques I use, I also used Pastel Sand to highlight the face and the hair strands.
Testing, exploring, and creating are the reasons why I am committed to keeping my art journal. Each discovery leads to a new one. The quality, versatility and adaptability of Turner Acryl Gouache paints is outstanding, and I look forward to future explorations in my work using other Turner paint color palettes.
Materials Used:
Art Journal
Turner Acryl Gouache: Pastel Sand, Turquoise Blue, Light Blue, Pearl Lilac, and Deep Gold
Stencils by Artist Cellar
Gel Mediums
Molding Paste
Flat Paint Brush, ½"
Round Brush
Rubber Stamps
Versafine Black Ink
Assorted Scrap Paper
Watch Zinnia's process for creating mixed media journal pages in the video below:
---
More Resources
You may also like...