Capturing the Beauty with Charvin Oil Paints
Professional Artist Mario Parga recommends Charvin ...
For clear, luminous vibrant color with exceptional mixing and handling properties combined with a high pigment load, I prefer Charvin Oil Colors over all other brands of paint. The difference really is amazing, and you owe it to yourself and your art to try them out ...
Read More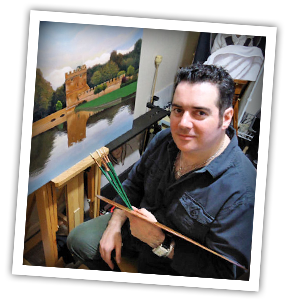 About Mario Parga
Fine Artist and Musician
English artist Mario Parga is perhaps best known for his virtuoso guitar music, yet since childhood has been equally at home with fine art.
Specializing in portraiture, figurative, landscapes and still lifes in the contemporary and classical realism styles, Mario has painted professionally for twenty five years. Using only the highest quality materials, Mario prepares his canvases ... Read More
Once used by great masters like Cezanne, Bonnard, and Ambrogiani, Charvin Oil Colors are now available for any discerning painter working either in the studio or en plein aire. Offered in both Fine and Extra Fine oil paint lines, along with a wide array of mediums, varnishes, gums and paint supplements, Charvin supplies the most luxurious materials for creating your own masterpiece in oils!
Made in the French Riviera for over 175 years
Highest quality ingredients and time-honored recipes
Vast array of colors for quicker painting and less mixing
Available in Fine and Extra Fine artists' oil colors and sets
Wide array of mediums, varnishes, gums, and resins
Especially loved by plein aire painters
See All Charvin Oil Paints, Oil Painting Sets and Mediums