Prize Winner 1 Gets:
Jerry's E-Gift Card
Value $15
Prize Winner 2 Gets:
Charvin Extra Fine Oil Color Salutation Set of 8 & Hamburg Premier Brush Explorer Set of 6
Value $300
Winner 1: A JAY M. - Maryland
Winner 2: Beverly S. - Connecticut
Prize Winner 1 Gets:
Jerry's E-Gift Card
Value $15
Prize Winner 2 Gets:
Strathmore Drawing, Sketch, Mixed Media, Watercolor, Toned Tan, Toned Gray & Bruynzeel Colored Pencil Box Set of 12
Value $121
Winner 1: Bill D. - Wixom, MI
Winner 2: Kathleen L. - Novato, CA
Prize Winner 1 Gets:
Jerry's E-Gift Card
Value $15
Prize Winner 2 Gets:
Polychromos Tin, Durer Tin, Pastel Tin, Pitt Pen Gift Box & Castell 9000 Anniversary Gift Set
Value $245
Winner 1: Barbara T. - Laurel, MD
Winner 2: Cheryl N. - Hatfield, PA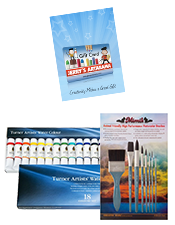 Prize Winner 1 Gets:
Jerry's E-Gift Card
Value $15
Prize Winner 2 Gets:
Turner Watercolor Set & Mimik Synthetic Watercolor Brushes Value Set
Value $263
Winner 1: William V. S. - Moorefield, WV
Winner 2: Sarah B. - Fort Worth, TX
Prize Winner 1 Gets:
Jerry's E-Gift Card
Value $15
Prize Winner 2 Gets:
Soho 72 Count Colored Pencil Set, GlobalArts 120ct pencil Case & Dial-a-Point Pencil Sharpener
Value $226
Winner 1: Joan B. - Kennesaw, GA
Winner 2: Carmen M. - Georgetown, TX
Prize Winner 1 Gets:
Jerry's E-Gift Card
Value $15
Prize Winner 2 Gets:
Charvin Extra Fine Artists Acrylic Basic Set of 9 & MIMIK Hog 14 Piece Combo Set
Value $180
Winner 1: Kyung S. - Fort Lee, NJ
Winner 2: Ann D. - Santa Fe, NM
Prize Winner 1 Gets:
Jerry's E-Gift Card
Value $15
Prize Winner 2 Gets:
1 yr. subscription to The Artist's Magazine & 3 Splash Retrospective Books: Creative Solutions: The Best of Watercolor, Exploring Texture: The Best of Mixed Media & The Best of Watercolor: Inspiring Subjects
Value $130
Winner 1: Pamella P. - Gilbert, AZ
Winner 2: Sonia. E - Greensboro, NC
Customer Number - If you are already a Jerry's customer, there is no need to do a thing. All Jerry's customer numbers have already been and will be entered automatically for a chance to win. All you need to do is check back here to see if your name is listed above as a winner.
Email Club Membership - If already on our email club list you are entered automatically. PLEASE DO NOT RE-SIGN UP.
Not On Our List/New Customer? Join our Email Club for FREE and you'll automatically be entered into this contest, plus you'll receive all of our best offers direct to your in-box, including promotions such as discount coupons, super sale prices on top selling art supplies, extra savings on major national art supply brands, FREE Shipping Deals, FREE Gift Offers, and more!
enter now
How to Claim Your Prize
Is your name listed as a winner above? Claiming your prize is easy. Just send an email to

[email protected]

to claim your prize.
* Official Rules and Prize Details:
Full Details: Read Official Rules and Details (opens in a new window)
Grand Prize:
Your customer number qualifies to 1 entry in the random drawing (within last 2 years up to date of entry). If you are on our email list or join our jerrysartarama.com email list you are also entered. (1 random winner will receive the Grand Prize Trip). The only way to enter on the "Official Art of the Carolinas Trip Giveaway Page" Recipients are determined at random by 8pm est. the day before the announced date and notified by email. All mailed entries received must be received no later than May 1st 2017 11:59:59 Eastern Daylight Savings. All entries received after the mailed entry deadline will not be valid. Recipients names will be announced on or about May 15th, 2017. *Winners will be chosen randomly by customer number and those on the email list by giveaway end date (no purchase necessary).