Artist Claire Kendrick - Ampersand Encausticbord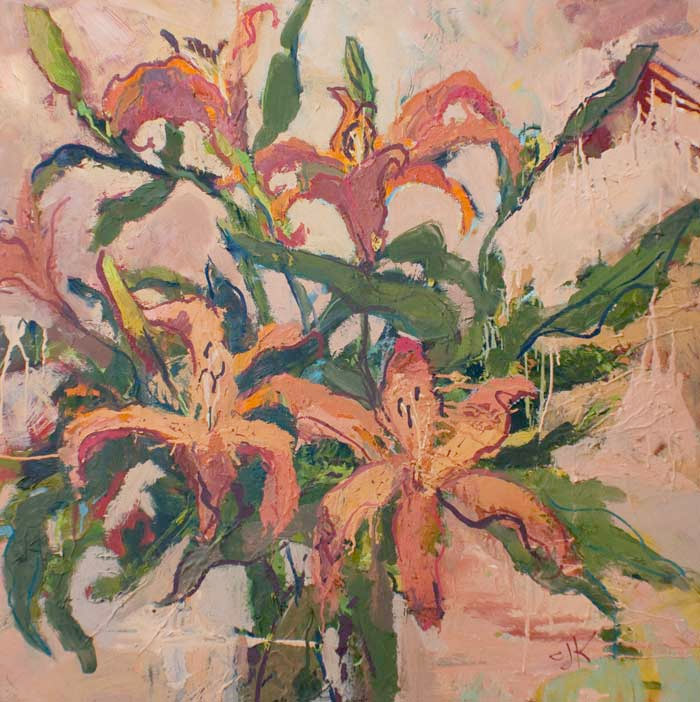 Image Credit
White Love, Oil and Encaustic on Encausticbord, 30"x30"
Orange Lilies, Oil and Encaustic on Encausticbord, 30"x30"
"Using high grade materials is important when selling my fine art paintings. Encausticbord is archival and that's important to the artist, dealer and collector! The fact that these panels are made in the USA from sustainable forests makes them my preferred choice. It's also important that the panel is heat resistant because I like to use a blowtorch to melt the wax and oil paint. I know that the ground is not only heat resistant, but it will also hold the layers of wax without fear of cracking or separation." -- Claire Kendrick
Claire Kendrick uses Encausticbord™ in much of her oil and encaustic work. She shares her reasons for this choice and how she can push the boundaries of her paints because of Encausticbord.
When we think of botanical paintings, traditional, detailed paintings come to mind. This series of paintings shows the delicate, radiant, powerful beauty of plants and flowers in a contemporary style that speaks more about their character than the detail of every palm frond or petal--there is always more than meets the eye.
It is my practice to always work with reference. I like to buy fresh flowers and set up the vase of flowers or whatever I'm painting and start with a strong composition. This is always my foundation. As I begin painting, each brush stroke has to say something. Putting down a mark and deciding to keep or remove, I try to ask myself if this mark adds something to the painting. The results are dynamic, energetic forms--they show the energy you put into the painting. The still life floral paintings have a life and vitality.
Pushing boundaries, I take the paintings outdoors and use a blowtorch to melt wax mixed with oil paint, giving a free-flow effect that I can manipulate or leave. This is a process of constant editing, painting, taking away then reapplying paint or wax, building the image slowly in layers. (Claire uses Old Holland Oil Paint and Gamblin mediums, including Neo Megilp and Cold Wax medium.)
"You should paint as you live life; expression should be in your work. See the things of beauty you enjoy and fill your life with that energy."